An extremely effective set, designed especially for the cleaning of garden furniture made from teak and natural wood (chairs, terrace chairs, armchairs, tables, lounges, trolleys, wood panels, terraces).
The kit contents
225 ml cleaner Wood Cleaner, 225 ml polish Wood Polish, 3 soft cloths
Wood Cleaner
A professional furniture and hard surface cleaner. Cleans deep, yet is non-abrasive. Excellent for wood and other hard furniture surfaces. Maintaining the value and quality of wood furniture takes time and proper care. Wood Cleaner has been developed to thoroughly clean away soil and residue from wood and other hard surfaces without the use of harsh abrasives. No scratching or marking. Wood Cleaner is quick, efficient, environmentally safe, economical and designed to get the job done.
Wood Polish
A delicate balance of beeswax and oil to protect, preserve and enhance the beauty of fine furniture.  This product is designed for shiny gloss and semi-gloss finishes like mahogany, and some cherry and maple pieces. In today's environment with temperature and humidity changes, fine woods need quality care. Wood Polish also works beautifully on wood paneling. The delicate balance of beeswax provides protection, yet will not build up.
Instructions for use
Wood Cleaner :
Shake the bottle well before use. Spray the cleaner onto a clean, lint-free damp cloth, and then wipe surface to be cleaned. Always wipe the surface with the grain. If marks persists, repeat above, or spray directly onto the surface to be cleaned. Do not let the cleaner sit on the surface. After cleaning, be sure the surface is dry and then apply Wood Polish.
Wood Polish : 
Shake the bottle well before use. Make sure the furniture surface is clean and free of dust using Wood Cleaner. Apply a very small amount of Wood Polish to a clean, lint-free cloth, then rub cloth on wood, working product with the grain of the wood a square foot at a time. Wipe piece thoroughly dry until oiliness disappears. General wiping with the same cloth yields a sharp, reflective shine. Wiping dry with a clean, lint-free cloth yields a softer, more diffused shine. Let wood dry for 30 minutes before placing objects on it. Polish once a month. Dust regularly. A lint-free cloth dampened with Wood Polish or Cleaner makes a good duster.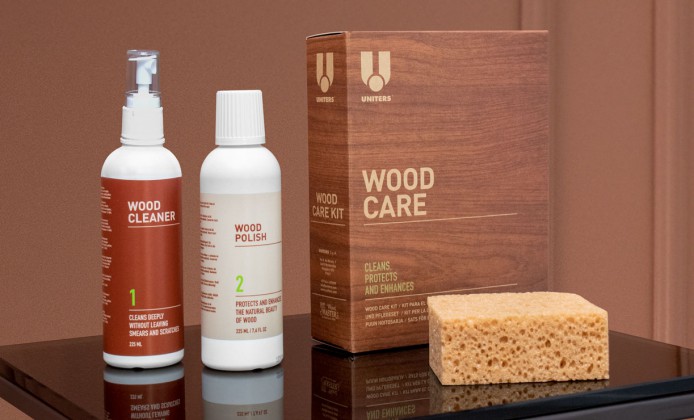 ORDER THIS PRODUCT ONLINE
_____________________________________________________________________
Deadline for order fulfillment
7 d.
All models of the collection