FABRIC CARE KIT
The set is designed for cleaning and protection of fabrics and microfibre
These are practical means to ensure fast and easy cleaning without damaging the fabric colour and upholstery.
UNITERS - innovators of furniture care products
The UNITERS brand, which has been operating for more than 30 years, develops and sells home care products all over the world. The founders of the company have created the most revolutionary leather and textile care solutions, the main goal of which is to improve the care and protection of furniture and textiles.

The set contains two products
The set contains two products: the fabric cleaner designed for regular cleaning and removal of small food and beverage stains and fabric protector that ensures perfect protection from liquids and stains in general.
The kit contents
225 ml Fabric Cleaner, 225 ml Fabric Protector, 1 sponge, 1 cleaning glove.
Fabric Cleaner
Fabric Cleaner is a specific cleaner for natural, synthetic, blended fibres and microfibres. On average, the 225 ml. spray is sufficient for cleaning 5 to 6 sofa seats; 10-15 m2 fabrics.
Fabric Protector
"Fabric Protector" is a water-based spray for protecting fabrics and microfibre against drink and food stains, fatty acids of perspiration, etc. Use after cleaning or de-staining. "Fabric Protector" can be applied directly to fabric while still damp.
Instructions for use
Fabric Cleaner:
Shake the bottle well before use. Apply product to dampened cloth and test for colour-fastness on a hidden area of the seat. At a distance of 30 cm, spray just enough product on the cover to make it slightly damp. Clean with the bath mitt dampened in luke warm water; rinse the bath mitt out when it becomes dirty. Rinse repeatedly with the bath mitt to remove all dirt and all traces of the product. Dry with a clean hand towel. In the case of stains, spray the product onto the sponge and dab the stains. Dry with an absorbent paper and then rinse following the instructions given in point 3. Protect the cleaned area while still damp with Fabric Protector.
N.B: Water marks, roughness and long drying times are all signs of insufficient rinsing. Rinse again if necessary.
Fabric Protector:
Shake the bottle well before use and test colour-fastness on hidden area. Spray the product at a distance of about 30 cm, treating wet or dry surface areas using a crisscross method; use a sponge to facilitate penetration of the product when applying to synthetics and microfibres, if necessary. Allow to dry.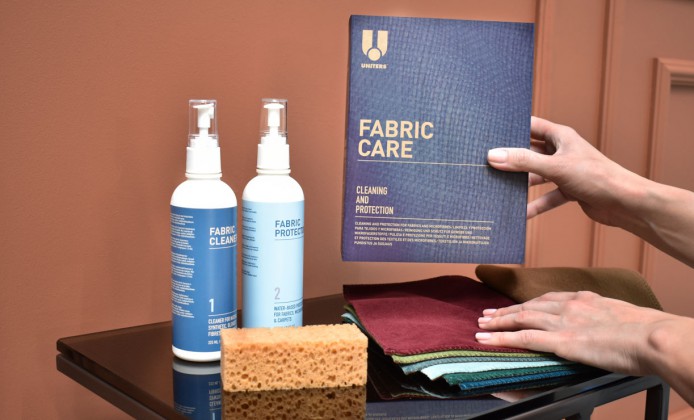 ORDER THIS PRODUCT ONLINE
_____________________________________________________________________
Price
31€
-10% the discount will be applied in the shopping cart
Deadline for order fulfillment
7 d.
All models of the collection