This kit includes two products for the cleaning and protection of natural leather such as aniline and semi-aniline leather.
Includes
150 ml cream Leather Protection Cream, 150 ml cleaner Leather Soft Cleaner
Leather Soft Cleaner
The Leather Soft Cleaner gently removes most dirt and stains from the surfaces of genuine leather furniture.
Leather Soft Cleaner is a mild, water-based cleaner that can be used on all pure aniline and pigmented leathers. It will remove grime as well as most water-based stains. Test the cleaner on a concealed area of your sofa before using.
Take note:
Leather Soft Cleaner may remove the colour or alter the leather: If any type of liquid causes the colour of your leather to run. You can test for this by wiping the leather with a soft cloth dipped in water. If the colour runs with just water, the Leather Soft Cleaner or any other product will also remove it. If the Leather Soft Cleaner appears to have darkened the leather, this is a sign that the leather is extremely absorbent. In actual fact, the leather will not have darkened but will have shrunk slightly bringing the colour dots closer together, which in turn makes the colour look darker. Just stretch or massage the leather by pulling it in all directions until the colour lightens again.
Защитный крем "Leather Protection Cream"
Защитный крем "Leather Protection Cream" придает коже отличную защиту и устойчивость к пятнам и загрязнениям вообще.
Leather Protection Cream это защитный крем на водной основе для всех видов кож, за исключением кожи набук и замши. Leather Protection Cream предохраняет кожу от масляных, водяных и спиртовых пятен, а также от повседневных грязевых налетов. Кроме того, оно поддерживает красоту и мягкость кожи и, при соответствующей чистке, предохраняет пигментированную кожу от иссушения. Рекомендуется очищать и проводить защитную обработку кожаной мебели по крайней мере раз в шесть месяцев. Если диваны из анилиновой кожи находятся в наиболее используемых помещениях, они могут нуждаться в более частой чистке.
Instructions for use
Leather Soft Cleaner:
Shake the bottle well before use. Pre-test on a concealed area of your sofa. Pour the Leather Soft Cleaner onto a soft sponge and form a lather by squeezing it. Work the foam into the leather using light circular movements. Dab the sponge into areas where the soiling is heavier. The larger the sponge, the faster the job will be done. When the sponge gets dirty, rinse it out in clean water. Remove the excess foam and dirt using a soft, white cotton cloth. For heavy soiling or if dye is transferred, which could happen for example with jeans, you will need to use a stronger product such as Strong Cleaner or the Light Colored Leather Care Kit. When you are satisfied with the cleaning results, we recommend you leave the leather to rest for 30 minutes before applying the Leather Protection Cream, which will renew the protection effect on the leather.
Leather Protection Cream:
Shake the bottle well before use. Pre-test on a concealed area of your sofa. Pour a small amount of Leather Protection Cream onto a soft, clean cloth and apply to the surface of the leather evenly. Repeat on areas subject to heavy use: armrests, seats and backrests. Leave about 30 minutes to dry. Buff the leather lightly using a clean, soft cloth.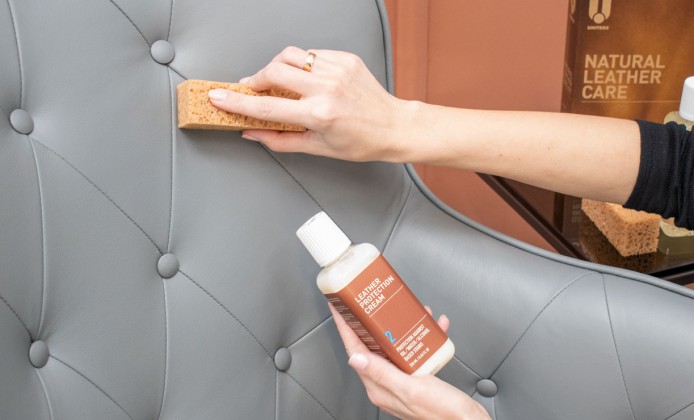 ORDER THIS PRODUCT ONLINE
_____________________________________________________________________
Deadline for order fulfillment
7 d.
All models of the collection