The products contained in this kit allow you to efficiently clean and protect furniture, garments/clothes and shoes made of nubuck and suede
The kit contents
This kit contains two products for cleaning of nubuck and suede surfaces and two protective products. Nubuck Cleaning Cloth is a dry and ready-to-use resin-based cloth, designed for removal of dirt and glossy circles from surfaces. Nubuck Cleaner deeply cleans old dirt and water-based stains from nubuck.  Eco Nubuck Cleaner protective product protects leather from penetration of liquids, so it becomes more resistant to dirt and stains in general.
Contents: 2 x 225 ml Nubuck Eco Protector, 250 ml Nubuck Cleaner, 2 Nubuck Cleaning Cloths, 1 sponge.
Nubuck Cleaning Cloth
This Nubuck Cleaning Cloth is an efficient, environmentally safe cleaner for your upholstery, garment, handbags and shoes in nubuck or suede.
Nubuck cleaner
Nubuck Cleaner will clean most stains and soiling from nubuck leather.
Nubuck Protector
Nubuck Protector will provide excellent protection for your Nubuck and Suede leathers against oil and water based spills.
Instructions for use
Nubuck Cleaning Cloth:
Unfold the cloth and wrap around a sponge or a similar object. Rub the surface in different directions. For removing dirt increase the pressure in affected area. Pretest on a hidden area.
Nubuck Cleaner:
Shake the bottle well before use. Pretest on a hidden area. Pour the cleaner into a soft sponge and squeeze it until you have made a white foam. Scrub the leather with the sponge and foam working the foam into the stain from the outside towards the inside. The sponge will draw the soiling from the leather. After the area appears clean, dry it with a hair dryer. The nap will appear flat and can be renewed by following the instructions for the Nubuck Cleaning Cloth.
Nubuck Protector: 
Before use open windows or take proper precautions to ventilate and do not use near open flames or sparks. Shake the bottle well before use. Pretest on a hidden area. Spray the leather at a distance of about 30 cm in an overlapping motion to insure complete protection, paying particular attention to wear areas like arms and seat cushions. The protector will dry in 2 hours. After cleaning reapply Nubuck Protector for maximum results.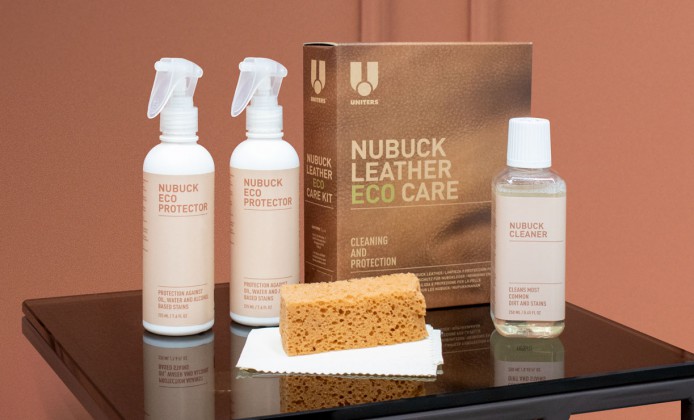 ORDER THIS PRODUCT ONLINE
_____________________________________________________________________
Deadline for order fulfillment
7 d.
All models of the collection