Storage Box
PIRATE
DIMENSIONS (L x W x H):
951 x 1860 x 240 mm
Suitable for mattress: 900 x 1800 mm
951 x 1930 x 240 mm
Suitable for mattress: 900 x 1900 mm
Simple but functional
A simple solution to have an additional storage space in the room - extra pull-out storage box. All the more so since, if necessary, this piece of furniture can also serve as a separate sleeping area.
The beds are sold without a mattress
You can choose mattresses suitable for beds from a wide range of our mattresses, which can be found here.

Design elements specific to the collection
The mysterious mood, desire for adventure and unlimited fantasy are created by the design elements that are repeated in the collection, such as - as if aged wood panels, artificial leather handles or details, as metal hardware, pirate-themed stamps.
Ventilated box base
The base of the box is ventilated, this will ensure a long service life of the mattress and hygiene.
Easy to pull out box
A storage box with wheels, so it is easy and simple to operate. It won't be difficult to pull and push the box though every day.
Can be used as an extra bed, a seating area or a storage box
The use of the storage box is quite universal - the furniture can be used as a separate sleeping area with an additional purchase of the mattress, the empty storage box can be used for bedding, the decorated storage box can be used as an additional rest and leisure area.
Made of quality materials
The furniture is designed and manufactured in accordance with advanced safety standards, from certified and high-quality, materials without carcinogenic.
Combine the furniture in the collection!
In order to maintain a unified style of the room or rooms – you can choose different models of furniture from one collection. The collection consists of several different sizes of chests of drawers, beds, bedside tables, tables. The accessories and interior details will give integrity to the style.

Assembly instructions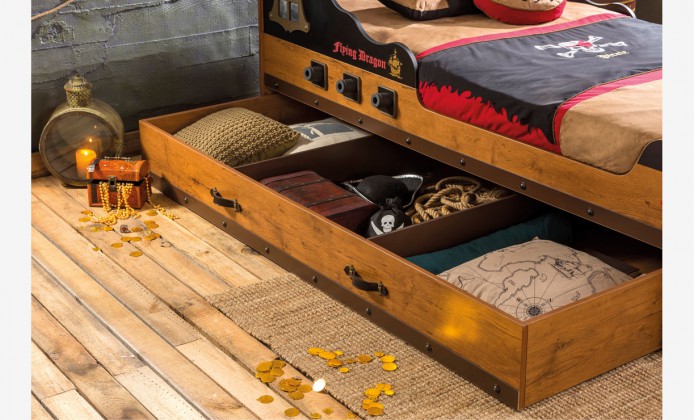 Create and order individually
1. FURNITURE DIMENSIONS (L x W x H)
Price
168€
-10% the discount will be applied in the shopping cart
Manufacturing lead time:
90 d.
All models of the collection