Bedspread Set
PIRATE
DIMENSIONS (L x W x H):
1600 x 2100 mm
1 pc. 350 x 350 mm; 1 pc. 300 x 520 mm
2000 x 2100 mm
1 pc. 350 x 350 mm; 1 pc. 300 x 520 mm
Especially painstaking work of PIRATE designers
Looking at this bedspread, You can see how much painstaking work has been put in to convey the PIRATE theme and create the most realistic environment in Your children's room. It is also the use of fabrics of several textures, decorative stripes, applications, embroidered notes, buttons, use of colors characteristic of the theme.
This bedroom accent will create a harmonious, tidy environment
The set of practical colors, youthful style bedspread will bring order and coziness to the bedroom area.
Easy maintenance
The bedspread is made of 100% polyester, so it is easy to maintain. Non-creasing, machine washable.
Complectation
The bedspread set consists of a double-sided bedspread (1600 x 2300 mm or 2000 x 2100 mm) decorated with pirate-themed applications and two embroidered decorative cushions (350 x 350 mm and 300 x 520 mm).
Made of quality materials
The furniture is designed and manufactured in accordance with advanced safety standards, from certified and high-quality, materials without carcinogenic.
Combine the furniture in the collection!
In order to maintain a unified style of the room or rooms – you can choose different models of furniture from one collection. The collection consists of several different sizes of chests of drawers, beds, bedside tables, tables. The accessories and interior details will give integrity to the style.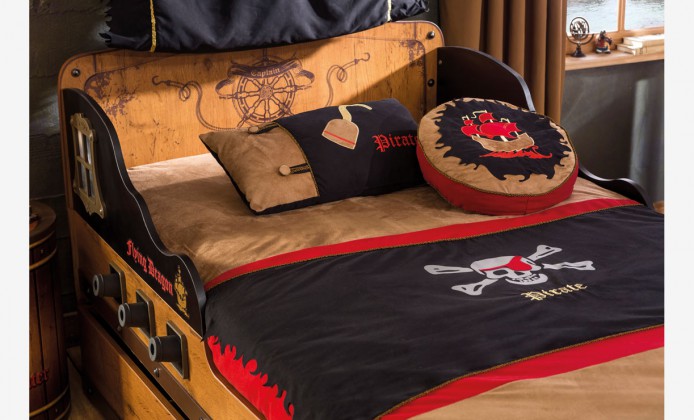 Create and order individually
1. DIMENSIONS
Manufacturing lead time:
90 d.
All models of the collection