Wardrobe
MONTES WHITE 3 door
DIMENSIONS (L x W x H):
1400 x 530 x 2020 mm
Three-door MONTES WHITE closet
Three-door MONTES WHITE closet for self-handling. Adjustable handles of different textures, inscriptions in the closet - from a young age will develop independence and interest the child in household chores.

The doors of furniture with soft close
The furniture has a built-in doors with a gentle closing. This will ensure a quiet and comfortable closing - they will not hit the furniture corpus and will gently return to the starting position.

Ventilation openings are installed
Ventilation openings are installed in the furniture to ensure air circulation. Your stored items will always stay fresh.

Notes on open shelves of the closet
In order for the toddler from a young age to put clothes in order, the designers of the collection used notes on the inner shelves of the closet. Your child will be able to sort T-shirts, trousers, shorts independently and neatly.
Handles of different textures
In order to engage and incorporate even the smallest ones into household chores, designers used handles of different textures, pleasant material. The natural curiosity of toddlers encourages to sneak everything that happens around, so even such details will develop the child's fine motor.
Ability to adjust the height of handles
The child grows , "grows" and the MONTES WHITE furniture. Another interesting detail - the possibility of changing the height of the handles, depending on the height of the child. In this way, the wardrobe and its contents will always be easily accessible to the child.
Made of quality materials
The furniture is designed and manufactured in accordance with advanced safety standards, from certified and high-quality, materials without carcinogenic.
In the production of furniture is used high-quality fiberboard (MDF)
Combine the furniture in the collection!
In order to maintain a unified style of the room or rooms – you can choose different models of furniture from one collection. The collection consists of several different sizes of chests of drawers, beds, bedside tables, tables. The accessories and interior details will give integrity to the style.

Assembly instructions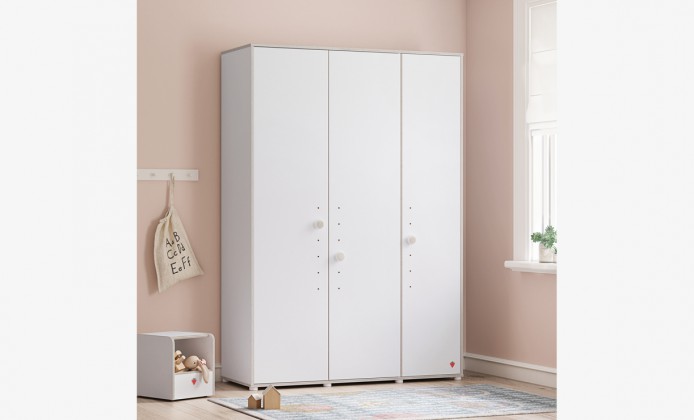 ORDER THIS PRODUCT ONLINE
_____________________________________________________________________
Deadline for order fulfillment
90 d.
All models of the collection