Pillow
DVYNIAI
DIMENSIONS (L x W x H):
450 x 450 mm
Decorative cushion - DVYNIAI
DVYNIAI pillows are unique both because of the pastel colors, luxurious fabric, embroidered designs, and because of the perfect execution.

Stylish and practical interior accessory
Decorative cushions are not only a stylish interior accessory that brings coziness and warmth to your home. Thanks to the pillows - you can easily create the mood of the room by combining them with each other - you will usually bring freshness and change the interior design.

Harmonized colors of whole collection
The matching and subtle colors are the uniqueness of this collection.
The collection consists of all 12 zodiac signs
The collection consists of all 12 zodiac signs with embroidered constellations of each sign and a Latin name.
Embroidered unique and personal drawing
Each pillow is unique because the drawing is not printed, but embroidered. The sign of the zodiac itself is embroidered with colored thread, and the constellation and the inscription with silver.
Velour and luxurious fabric
The pillow is made of velour and luxurious Velvet fabric. This fabric is special in that the color of the pillow changes depending on the light, so it looks different throughout the day.
A great gift
The pillow is not only perfect for interior decoration, it gives it exclusivity, but it can also be a great, personal gift.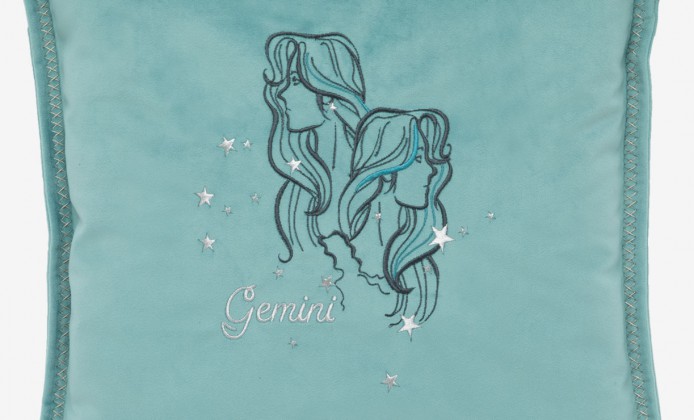 ORDER THIS PRODUCT ONLINE
_____________________________________________________________________
Price
43€
-10% the discount will be applied in the shopping cart
Deadline for order fulfillment
35 d.
All models of the collection