Spring Mattress
OPTIMIST with sleeping pillow
DIMENSIONS (L x W x H):
1000 x 2000 x 180 mm
1200 x 2000 x 180 mm
900 x 2000 x 180 mm
Mattress and sleeping pillow for your OPTIMIST couch
The three-size, certified spring mattress OPTIMIST is specially designed for the daybeds of the OPTIMIST line. For those who buy a mattress, we also give a sleeping pillow as a gift.
POCKET spring mattress base
POCKET springs have long been used in the manufacture of mattresses and not only them. They are unique in that each spring has its own textile shell, which allows each spring to respond individually to body pressure. These types of mattresses are recommended for people with higher weight because the springs provide greater support and pressure resistance. The spring block POCKET is surrounded by polyurethane foam on all sides, which gently adapts to the body.
Suitable for people sleeping in different poses
No matter what position you like to sleep in: on your side, back, or belly. The mattress adapts individually to each movement and position, gently absorbs and envelops the body.
Helps to maintain correct spinal position
The effect of this mattress is different from polyurethane mattresses because the entire body support is transferred via the POCKET springs. POCKET springs are unique in that they do not emit a spring-like sound, each spring works individually and provides firm support and can withstand more weight. Working individually, each of the springs is pressed differently and adapts to body movements differently, providing the body with the required support at different points: springs sag more at the lumbar part and sag less at the points of head and feet while keeping the spine straight.
Body movements are not transferred to the partner
Sleep calmly and without distractions throughout the night whereas POCKET springs respond individually to pressure and body movements, which are absorbed and not transferred to different parts of the mattress.
Breathable
There are air gaps between the POCKET springs which ensure proper air permeability of the mattress. Proper ventilation is an important aspect of the use of the mattress, as it prevents accumulation of moisture inside the mattress, generation of mould and cools it during sleep. There is a special mesh at the bottom of the mattress, which allows the mattress to breathe more. For these reasons, the mattress is suitable for people who sweat more.
Easy to maintain
The mattress slipcover has a zipper on the bottom part thereof to facilitate maintenance of the mattress: the slipcover is easy to remove, wash at 30°C temperature in ultra-gentle mode, dry-clean and iron it (at a temperature not exceeding 110°C). Composition of a slipcover: 62% polyester, 28% viscose, 8%  polypropylene, 2% lurex.
Certified
The mattress slipcover is certified by Oeco-Tex, which also ensures that no hazardous substances, formaldehydes, heavy metals or forbidden pesticides have been used in the fabric production process.
60-month warranty on the mattress core!
Mattress cores produced by UAB ZBIGA are subject to a 60-month warranty. For a cover or other accessories - usual 24 months. warranty.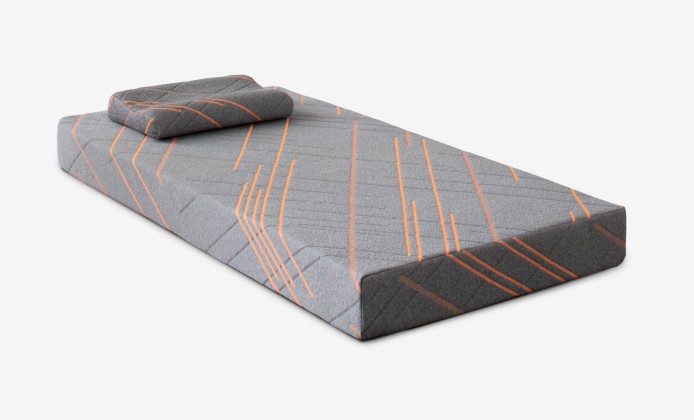 Create and order individually
1. FURNITURE DIMENSIONS (L x W x H)
Price
270€
-10% the discount will be applied in the shopping cart
Manufacturing lead time:
30 d.
All models of the collection