Spring mattress
GRAND REST PREMIUM
Price with fabric From
1180€
DIMENSIONS (L x W x H):
1680 x 2000 x 320 mm
1880 x 2000 x 320 mm
Medium-soft mattress GRAND REST PREMIUM
GRAND REST PREMIUM mattress of exceptional comfort. These are not only certified, safe materials with anti-allergic properties, but also a unique design. Choose the size and material color you need.
Match the mattress with the bed by choosing the tapestry you like
Match the mattress with the bed by choosing the tapestry you like. This mattress, if chosen correctly, will fit all MAGRĖ FURNITURE beds.
With detachable mattress topper
For your comfort, a mattress with a mattress topper that is fastened with a zipper. It will hold firmly and will not move when you move. The mattress topper will help to keep it clean, its cover can be easily removed and washed. The mattress topper will protect the mattress from dirt and provide greater comfort for those who like a softer base while sleeping.
Tourmaline
Applied in fine particles to the cell structure of VISCOPPPER, it encourages circulation, increases the oxygen levels in tissue and stimulates cell vitality.
Graphite
It multiplies heat dissipation and helps to calm the nervous system.

Translation results Mattress with high quality POCKET springs
POCKET springs have long been used in mattresses and furniture production. They are special because each spring has its own textile shell that allows it to respond individually to body pressure. This mattress is suitable for people with different weights, as the springs create a strong support and the polyurethane gently adapts to the body.
7 Ergonomic zones helps to maintain correct spinal position
The mattress is divided into 7 ergonomic zones, which are not new on the market.  The anatomical zones were created based on the anatomy and body constitution of each of us. Each ergonomic zone responds differently to a specific weight and pressure of the body part. When lying on the mattress, the spine should be straight (from coccyx to cervical vertebra), therefore, such a technology allows the mattress to sag more in places where the pressure is bigger (in the lumbar region) and, in less pressurized areas, it comfortably wraps the body so that the spine remains straight and of regular shape, which affects our entire body and its healthy functioning.
Viscoelastic material with "Memory Back" function
The viscoelastic material specifically envelopes the body and slowly returns to its original position (Memory back function). Both the polyurethane foam and the viscoelastic material are saturated with natural soy oil, which provides a healthy environment for the human being and the durability of the polyurethane itself. The mattress responds pleasantly to body heat and movements. Compared to polyurethane foam, the viscoelastic material sags more quickly but returns to its original position more slowly, thus creating a feeling of extreme friability and softness.
Certified and suitable for allergic people and infants
The soy oil contained in the mattress prevents the reproduction of dust mites. Mattress foam polyurethanes are certified and tested by dermatologists. The certificates ensure that safe materials are used in the manufacturing process of polyurethane foam, as well as that the mattress is suitable not only for allergic people but also for infants. The mattress slipcover is certified by Oeco-Tex, which also ensures that no hazardous substances, formaldehydes, heavy metals or forbidden pesticides have been used in the fabric production process.
Body movements are not transferred to the partner
Sleep calmly and without distractions throughout the night as body movements are absorbed and not transferred to different parts of the mattress.
For healthy functioning of the body
Sleeping in a correct position and proper softness also ensure normal functioning of other vital organs resulting in improved blood circulation, relaxing muscles, relieving neck and back pain.
Breathable
Flexible polyurethane foam has an open pore structure, it allows air to pass through and evaporates excess moisture. There are additional air gaps, that, just as air gaps between the POCKET springs, ensure proper air permeability of the mattress. Proper ventilation is an important aspect because it prevents moisture from accumulating inside the mattress. It prevents molding and cools the body during sleep. There is a mesh base underneath, which allows the mattress to let more air through.
60-month warranty on the mattress core!
Mattress cores produced by UAB ZBIGA are subject to a 60-month warranty. For a cover or other accessories - usual 24 months. warranty.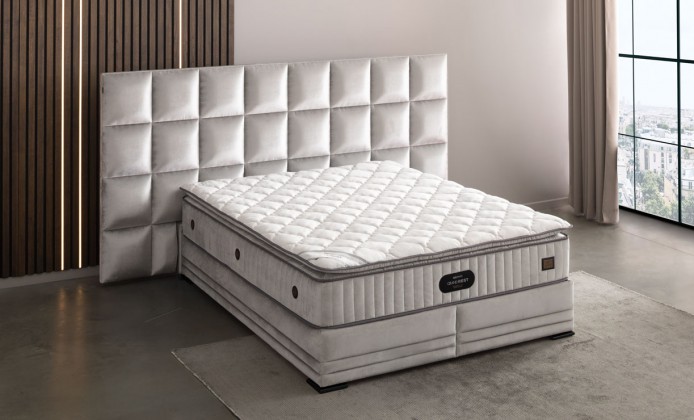 Create and order individually
1. FURNITURE DIMENSIONS (L x W x H)
2. CHOOSE FURNITURE UPHOLSTERY
Hard to choose? Order samples of fabrics for your home for free!
Price
1180€
-10% the discount will be applied in the shopping cart
Manufacturing lead time:
depends on options
All models of the collection