Sofa bed
RUBIN MAX
Price with fabric From
1303€
Price with leather From
2191€
Dimensions (LxWxH):
2250 x 1500 x 900 mm
Sleeping part size: 1950 x 1530 mm; The distance from the floor to the lowest part of the furniture is 50 mm
With a sleeping mechanism intended to frequent use
This furniture has been designed so that if it is necessary you could be transformed into a bed. The hard base of the mattress with enduring springs "Pocket" provides a wonderful support and ensures a pleasant ambience for daily sleep. A lifting sleeping mechanism does scratch the floor surface. We recommend additionally using a mattress-topper in order to exploit this piece of furniture for a long time.
With integrated storage box
You can place different things into a practical storage box. Ventilation openings integrated into the storage boxes ensure air flow and the things stored there remain fresh.
Pillows and arm rests contains sewed-in buttons
Pillows and buttons in the arm rests ensure distinctive delicacy to this piece of furniture.
You can choose the corner side
You can select left or right side of the corner.
You can choose from a huge variety of fabric and genuine leather samples
For your option we offer over 240 different coverings. You will surely select the most suitable version, which will harmoniously decorate your home.
You can choose the colour of the legs
You can choose the wood colour of the legs from the palette of offered colours.
Assembly instructions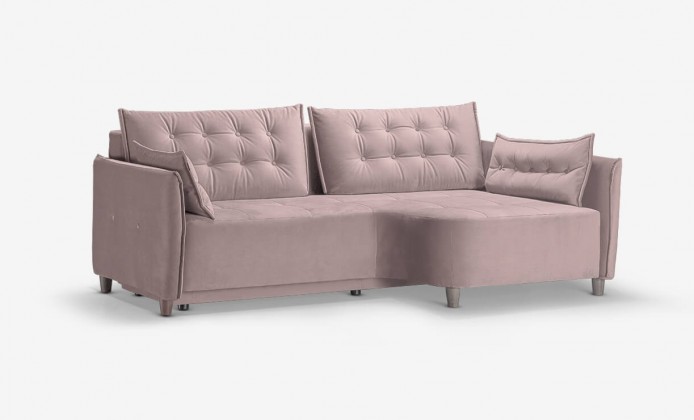 Create and order individually
1. FURNITURE DIMENSIONS (L x W x H)
2. SELECT THE SIDE OF THE CORNER
3. CHOOSE FURNITURE UPHOLSTERY
Hard to choose? Order samples of fabrics for your home for free!
4. CHOOSE THE COLOR OF THE LEGS
FURNITURE STRUCTURE
When choosing a piece of soft furniture, not only external design is significant, its internal structure is also important. You may be sure that the production of "Magrės baldai" is made of qualitative and durable materials. Most families from Lithuania and other countries have assessed quality and durability of the products of "Magrės baldai"; therefore, they recommend them to their friends and relatives without any doubt.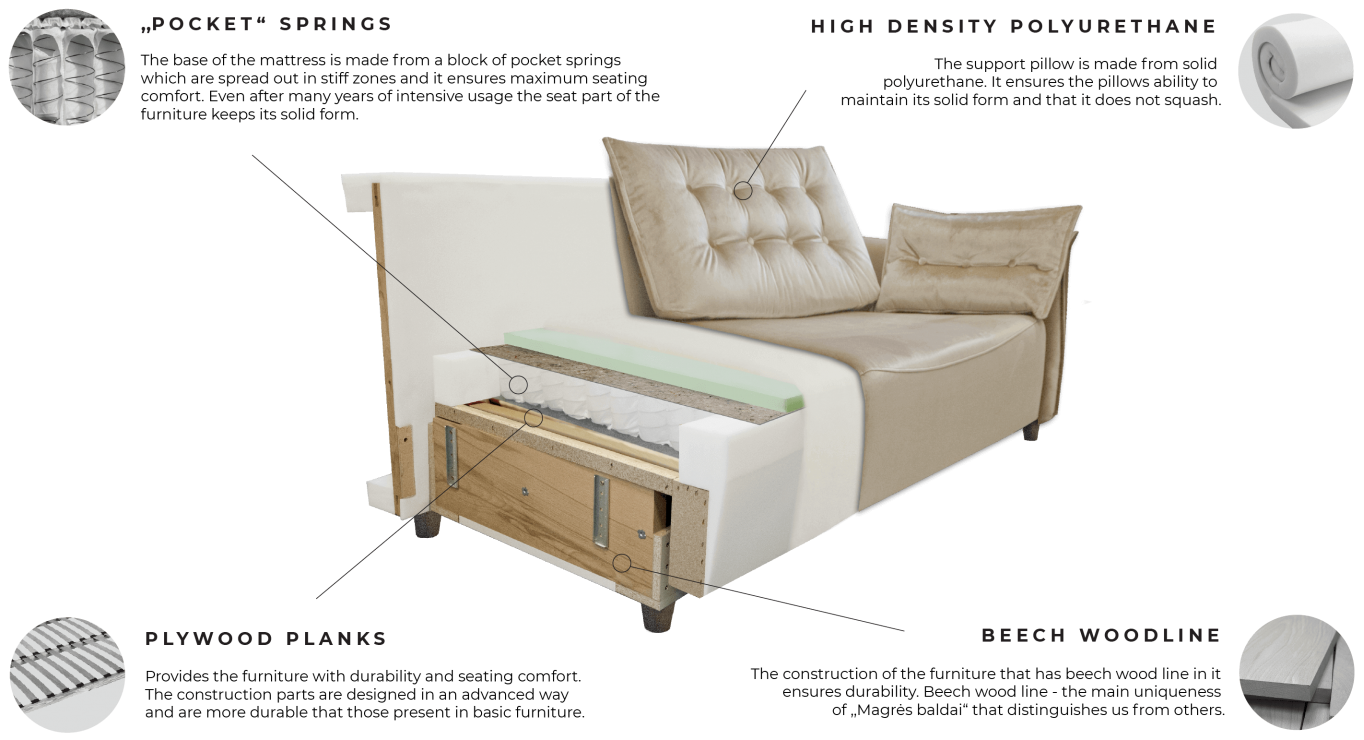 All models of the collection