Pouffe
KOSMO
Price with fabric From
279€
Price with leather From
464€
DIMENSIONS (L x W x H):
790 x 870 x 430 mm
Exclusive quality modular pouf KOSMO
Exclusive quality modular pouf KOSMO is designed for creating an individual furniture composition. You can choose from a wide range of fabric or genuine leather samples.

You can choose from a huge variety of fabric and genuine leather samples
From the wide range of fabrics and genuine leather we offer, choose the option you like best: take into account how selected material will match to other existing furniture, pay attention to how the fabric looks under natural and artificial lighting, how the color and pattern change when looking at material from different sides. All this will make it easier for you to choose the fabric that meets your expectations.
* Leather seams may differ from fabric furniture.

Modular furniture
You will be able to develop an individual furniture composition in accordance with your own wishes or needs. Create your own furniture composition from a large option: deckchair, armchair, part of a corner sofa, shelf and pouffe. Every element is separate but together a totally harmonious element of the set. Choose which parts you want and connect them into an individual and unique furniture composition, which you will be able to distribute as you wish.
You can choose separate furniture parts of different colours
Let your personal sense of style express and select compositions, which you like the most. Furniture arm rests can be of one colour while furniture sitting and backing parts – of different colours.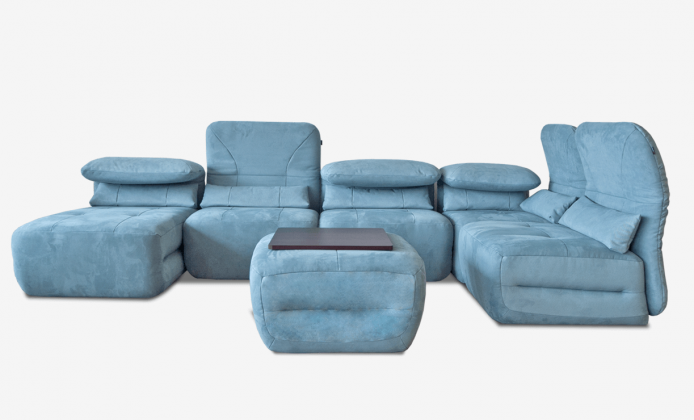 Create and order individually
1. FURNITURE DIMENSIONS (L x W x H)
2. CHOOSE FURNITURE UPHOLSTERY
Hard to choose? Order samples of fabrics for your home for free!
Price
279€
-10% the discount will be applied in the shopping cart
Manufacturing lead time:
depends on options
All models of the collection