Polyurethane pillow
RELAX
DIMENSIONS (L x W x H):
600 x 390 x 115 mm
Polyurethane pillow RELAX
No matter what position you like to sleep in: on your side, back, or belly. The pillow adapts individually to each movement and position, gently absorbs and maintains the correct position of the head.
New generation viscoelastic material
The viscoelastic material specifically envelopes the body and quickly returns to its original position (Memory back function). Both the polyurethane foam and the viscoelastic material are saturated with natural soy oil extract, which provides a healthy environment for the human being and the durability of the polyurethane itself.  The pillow responds pleasantly to the heat and movements of the head. Compared to polyurethane foam, the viscoelastic material sags more quickly but returns to its original position more slowly, thus creating a feeling of extreme friability and softness.
Certified and suitable for allergic people and infants
The soy oil contained in the pillow is natural and organic. It provides the product with durability and prevents the reproduction of dust mites. Namely, this material prevents the pillow from crumbling and drying out. The material is not harmful and is suitable for infants and people with allergies or asthma. The foam polyurethane is certified and tested by dermatologists. The certificates ensure that safe materials are used in the manufacturing process, as well as that the pillow is suitable not only for allergic people but also for infants. The pillow slipcover is certified by Oeco-Tex, which also ensures that no hazardous substances, formaldehydes, heavy metals or forbidden pesticides have been used in the fabric production process.
Saturated with soy oil
The pillow is made of two layers: viscoelastic and polyurethane. Both materials are saturated with organic and natural soy oil, which provides a healthy environment for the human being and the durability of the polyurethane itself.
You can choose a sleeping side
This pillow is versatile in that it can be used on both sides. Both sides of the pillow have different softness, but both are extremely soft. Therefore, you can choose the side that is most convenient for you.
Helps to maintain correct position of the spine and neck
When choosing a pillow, it is very important to try it with the mattress, because the pillow should be selected individually according to shoulder width. This pillow is ideal for people of smaller constitution and children. Due to its extreme softness and shape, the pillow gently holds the head and helps keep the spine straight, which affects our entire body and healthy functioning thereof.
For healthy functioning of the body
Sleeping in a correct position and proper softness also ensure normal functioning of other vital organs resulting in improved blood circulation, relaxing muscles, relieving neck and back pain.
Air permeable, firm and elastic
Extremely elastic foam polyurethane (used in this pillow) and viscoelastic fabric have an open pore structure that allows air to pass through and evaporates excess moisture.
Easy to maintain
The slipcover is easily removable, so it can be easily pulled-off or put on again. The slipcover can be washed at a temperature of 60oC, in extra mild mode, dry cleaned and ironed (at a temperature of up to 110oC). Composition of a slipcover: 20% viscose and 80% polyester.
ORDER THIS PRODUCT ONLINE
_____________________________________________________________________
Price
79€
-10% the discount will be applied in the shopping cart
Deadline for order fulfillment
35 d.
PILLOW STRUCTURE
When choosing a pillow, it is important not only its comfort, but the internal structure, also. You can be sure that pillows are made of high quality and durable materials. Many families in Lithuania and other countries have highly appreciated the quality and durability of "Magrės baldai" products, and therefore strongly recommend them to their friends and relatives.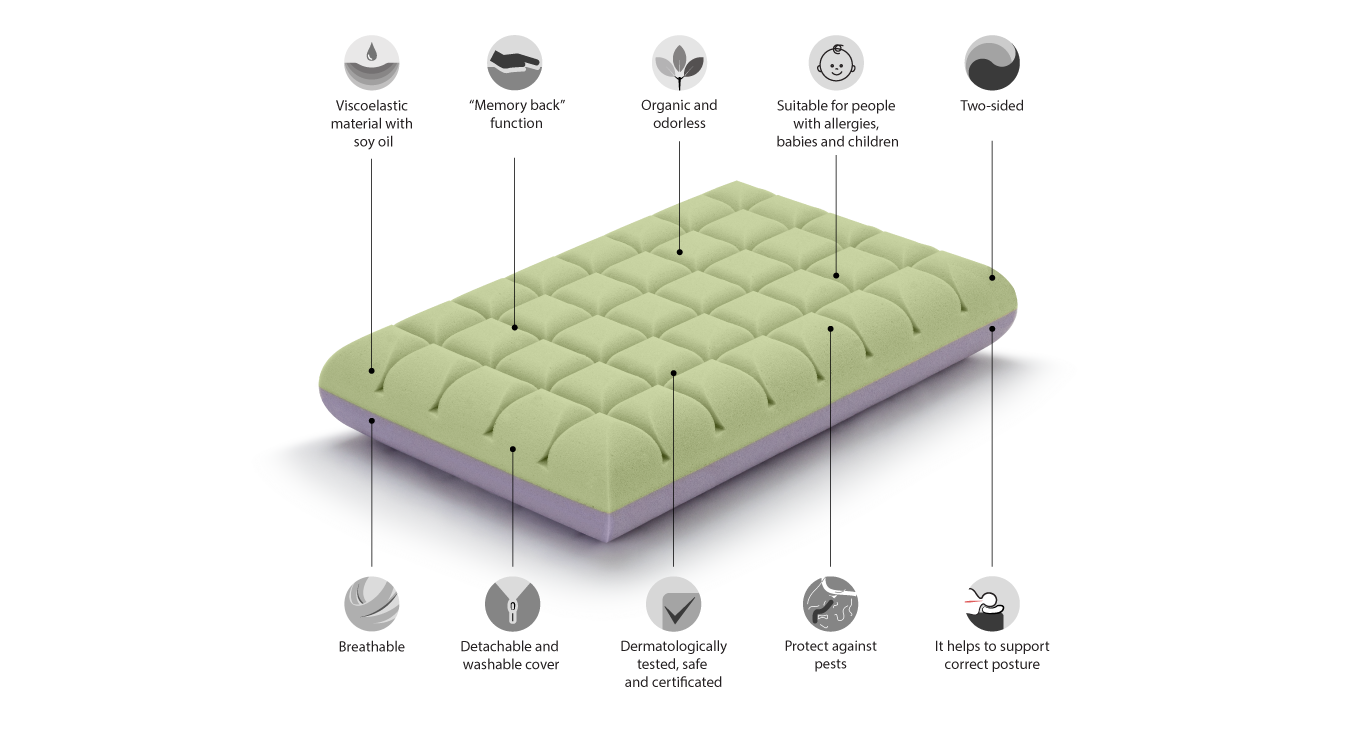 All models of the collection