Bed
FORTŪNA MAX
Price with fabric From
1675€
1423.75€
DIMENSIONS (L x W x H):
2485 x 2100 x 1430 mm
Mattress size: 1400 x 2000 mm
2685 x 2100 x 1430 mm
Mattress size: 1600 x 2000 mm
2885 x 2100 x 1430 mm
Mattress size: 1800 x 2000 mm
Bedroom bed FORTUNA MAX with bedding box
Bedroom bed FORTUNA with a delicate headboard pattern. Integrated mattress and mattress pad - for quality rest. You can choose from a wide range of fabrics.

With two storage boxes
There are two separate storage spaces underneath the mattrasses. Which opens from the sides of the bed by lifting the mattress. When the storage space has fully opened the hinge fixates the position, for safe and convenient use. Storage boxes have ventilation holes to prevent condensation and to ensure ventilation.
Built-in mattress and mattress-topper
Exceptional design for exceptionally good your rest. This bed is distinguished from our other beds not only by the subtle headboard. One of the biggest advantages of this bed is that it has a built-in mattress and mattress-topper, so you will not have to worry about it. The mattress is designed according to the Spring Box principle, which uses pocket springs. Spring Box is an effective way to raise your bed, make it more comfortable, and ensure that the mattress lasts longer. It consists of a solid wooden frame, covered material. This product is placed on the main bed frame, and then the mattress-topper, which can be from viscoelastic or high-density polyurethane, is placed. The mattress topper can be unzipped. It is made with a special fabric which allows the body to breathe.
Additional lighting with built-in USB charging ports
For your convenience, you can also order lighting: 2 lights with 2 integrated USB charging ports. Lighting is controlled by touch. Available in black or white colors.
You can choose the colour of the legs
You can choose the colour of the legs from the palette of offered colours. This will allow you to complete only the unique furniture that suits your interior.
You can choose from a huge variety of fabrics
From the wide range of fabrics we offer, choose the option you like best: take into account how selected fabric will match to other existing furniture, pay attention to how the fabric looks under natural and artificial lighting, how the color and pattern change when looking at fabric from different sides. All this will make it easier for you to choose the fabric that meets your expectations.
The back of the bed is made of technical fabric
The back of the headboard is made of technical fabric, so the furniture is placed against the wall.

Assembly instructions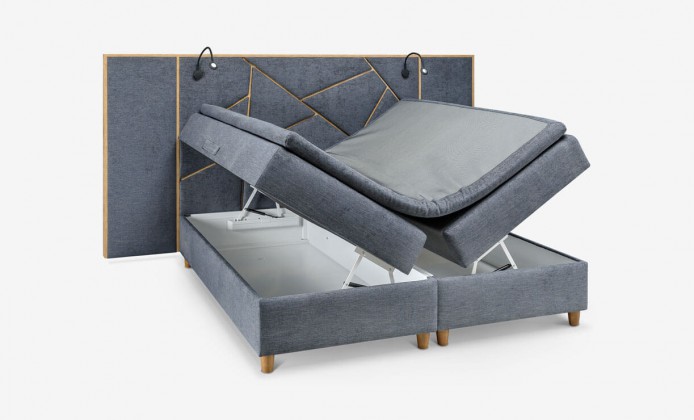 Create and order individually
1. FURNITURE DIMENSIONS (L x W x H)
2. CHOOSE FURNITURE UPHOLSTERY
Hard to choose? Order samples of fabrics for your home for free!
3. CHOOSE THE COLOR OF LAMINATED CHIPBOARD
4. CHOOSE THE COLOR OF THE LEGS
5. SELECT THE TYPE OF MATTRESS TOPPER
6. LIGHTING
Manufacturing lead time:
depends on options
FURNITURE STRUCTURE
When choosing a piece of soft furniture, not only external design is significant, its internal structure is also important. You may be sure that the production of "Magrės baldai" is made of qualitative and durable materials. Most families from Lithuania and other countries have assessed quality and durability of the products of "Magrės baldai"; therefore, they recommend them to their friends and relatives without any doubt.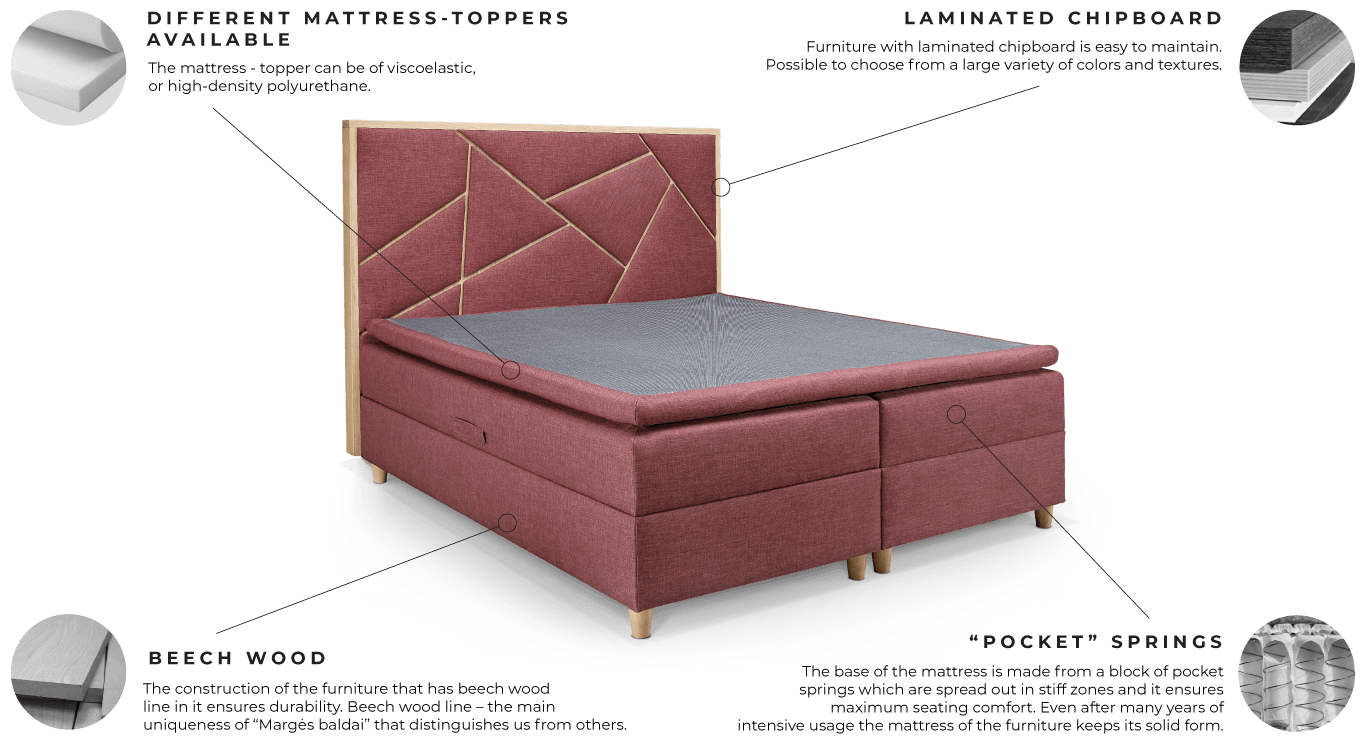 All models of the collection