Corner sofa
VYTIS WITH SHELF
Price with fabric From
1980€
Price with leather From
3107€
Dimensions (LxWxH):
3620 x 1600 x 890 mm
Leg height: 135 mm
Modern look, charming graceful shapes
Graceful, rounded shapes reflect modern trends and give the furniture lightness. The Vytis collection looks aesthetically pleasing not only from the front but also from the back. So, it may be boldly built in the middle of the room, thus turning into a functional accent.
Two levels of comfort pillows
Upholstered furniture from the Vytis collection has two levels of pillows that allow you to adjust the seating depth. If you like to sit up straight, with less recline, you can place both pillows under your back. For those who like to sit freely, it is recommended to simply remove the extra pillow. When choosing furniture that you like, don't forget to try different sitting poses.
A special gift for those who buy furniture from the Vytis collection
Everyone who orders the products of the new Magrės baldai collection receives an exclusive gift – a pillow "Lithuania" embroidered with Lithuanian symbols. Its colour can be chosen from several different options.
Different tissue combinations can be created
The wide range is rich in different types, colours and patterns of fabrics, from which you can create various combinations – solid or playful. For example, furniture armrests and pillows may be the same colour and the rest may be different. Create your own exclusive and unique furniture combination.
The robot vacuum cleaner is easy to lower
High legs not only give the furniture lightness, but also make it easier to keep the house clean. The robotic vacuum cleaner can freely sit under the sofa, soft corner or armchair and clean the dirt that has accumulated there.
A practical and exclusive piece of furniture shelf
This shelf gives the furniture an impression of lightness and grace, and when needed can serve as a place to put together a variety of items that would be easily accessible, like a cup of coffee or a book, at hand.
Original corner sofa design
Soft corners are distinguished by the fact that they are bent at an angle of 45 degrees instead of 90. Therefore, they blend into the interior very organically.
Available with an integrated USB charging port
The USB charging port can be integrated into on a side of the furniture, in which case furniture must be connected to the power outlet.
Fashionable marble pattern
The highest quality glossy LMDP board with a marble pattern is used, which gives the furniture and the interior itself an impression of luxury and elegance.
You can choose from a huge variety of fabric and genuine leather samples
For your option we offer over 240 different coverings. You will surely select the most suitable version, which will harmoniously decorate your home.
You can choose leg colour
From the palette below, you can choose the metal color of the legs.
You can choose the table-top colour shade
You can choose the colour tone of the table-top board (LMDP) from the palette of offered colours.
You can choose the corner side
You can select left or right side of the corner.
Assembly instructions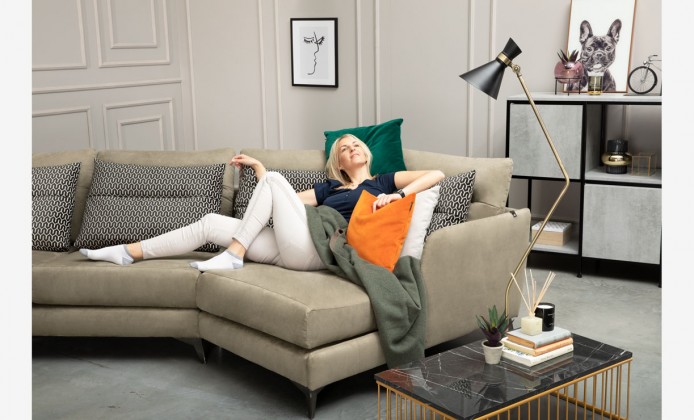 Create and order individually
1. FURNITURE DIMENSIONS (L x W x H)
2. SELECT THE SIDE OF THE CORNER
3. CHOOSE FURNITURE UPHOLSTERY
If the main choice of furniture upholstery is natural leather - it applies to the entire furniture
Hard to choose? Order samples of fabrics for your home for free!
4. CHOOSE UPHOLSTERY FOR OTHER FURNITURE PARTS
Hard to choose? Order samples of fabrics for your home for free!
5. CHOOSE THE COLOR OF LAMINATED CHIPBOARD
6. CHOOSE THE COLOR OF THE LEGS
7. CHOOSE A DECORATIVE PILLOW
8. SELECT USB
FURNITURE STRUCTURE
When choosing a piece of soft furniture, not only external design is significant, its internal structure is also important. You may be sure that the production of "Magrės baldai" is made of qualitative and durable materials. Most families from Lithuania and other countries have assessed quality and durability of the products of "Magrės baldai"; therefore, they recommend them to their friends and relatives without any doubt.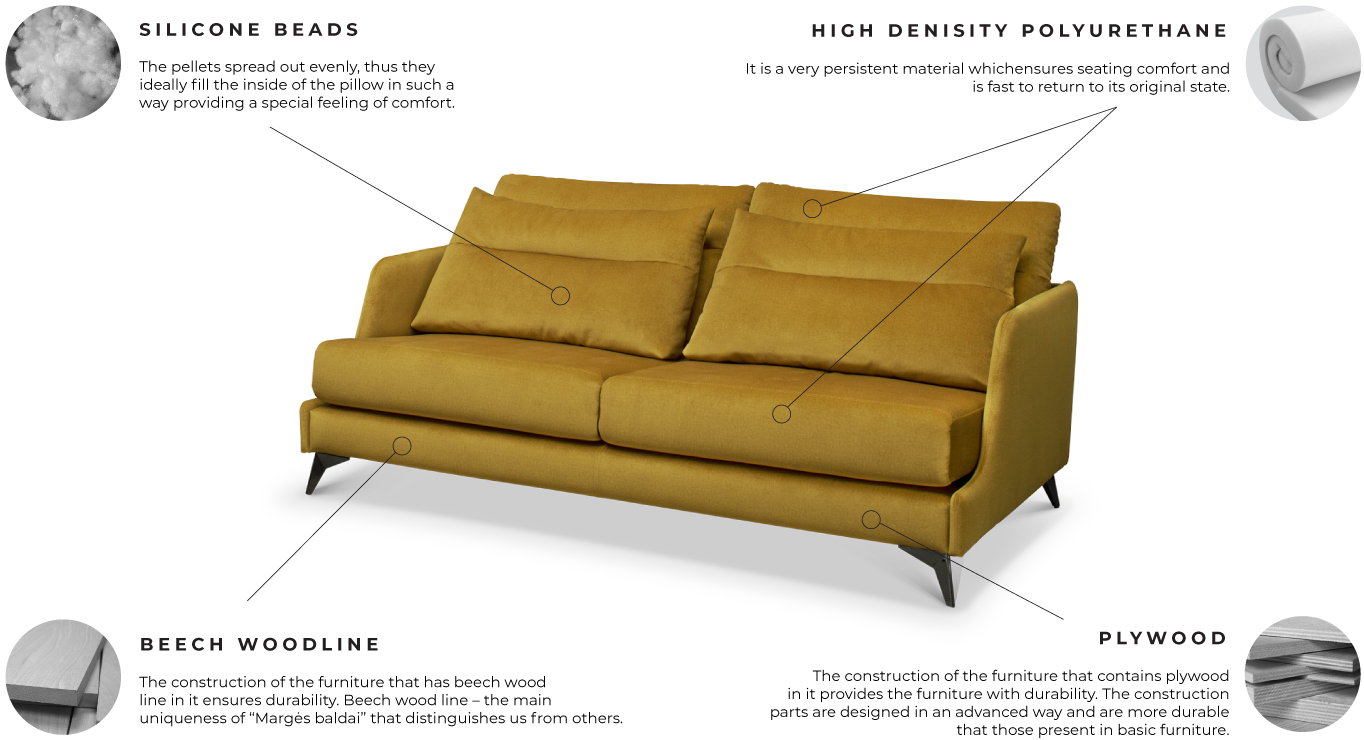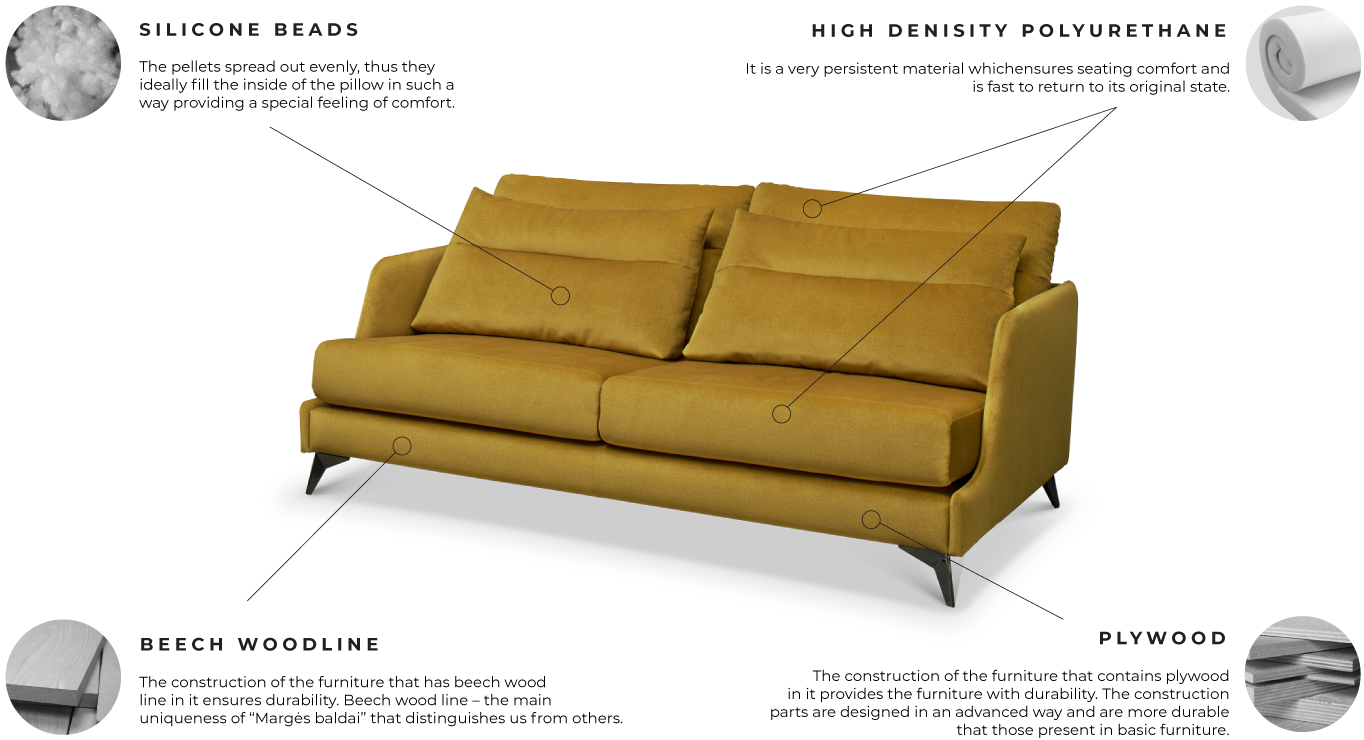 All models of the collection