Chair
MADEIRA
Price with fabric From
211€
179.35€
DIMENSIONS (L x W x H):
620 x 560 x 880 mm
Create a chair for yourself - MADEIRA
To assemble a chair that meets your individual interior needs. You can choose not only the color of the legs, but also the fabrics of the seat and the back separately.
Design details
The MADEIRA chair is characterized by an ergonomic design, comfortably and comfortably curved armrests, light and playful buttons.
The frame of the chair is made of plywood
Plywood is an extremely strong wood product made from several sheets of wood veneer glued together. The use of plywood for the frame – ensures the strength and durability of the chair.
Ergonomic backrest
The back of the chair is ergonomic, tilted back slightly for a comfortable seat.
You can select the color
Choose from five different legs. The legs are made of wood, which ensures the stability of the chair. Refined leg colors of choice, so you can easily match them to our fabric palette.
You can choose from a huge variety of fabrics
From the wide range of fabrics we offer, choose the option you like best: take into account how selected fabric will match to other existing furniture, pay attention to how the fabric looks under natural and artificial lighting, how the color and pattern change when looking at fabric from different sides. All this will make it easier for you to choose the fabric that meets your expectations.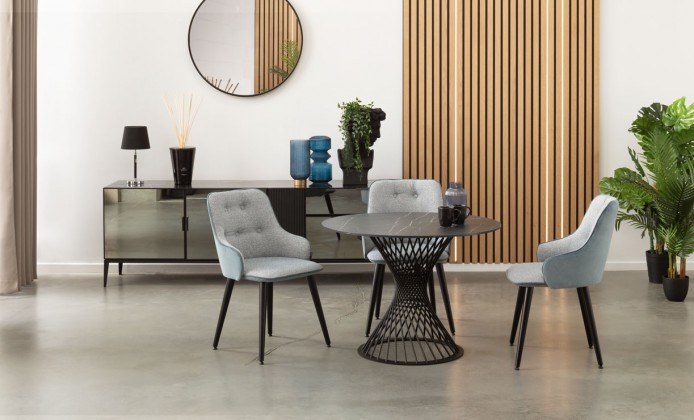 Create and order individually
1. FURNITURE DIMENSIONS (L x W x H)
2. CHOOSE FURNITURE UPHOLSTERY
Hard to choose? Order samples of fabrics for your home for free!
3. CHOOSE UPHOLSTERY FOR OTHER FURNITURE PARTS
Choose upholstery for furniture details marked gray in the photo (click on the letter "i")
Hard to choose? Order samples of fabrics for your home for free!
4. CHOOSE THE COLOR OF THE LEGS
Manufacturing lead time:
depends on options
All models of the collection