Carbed
GTE blue
DIMENSIONS (L x W x H):
1275 x 2200 x 800 mm
Suitable for mattres: 1000 x 1900 mm
When buying a mattress together with a bed, we will apply a 20% discount on the mattress. The discount will be applied at the final stage of the order, when our consultant will contact you.
Blue sports car for speed and power lovers
A fast and powerful blue car for a colorful and adventurous sleep for your children.
Remote control
Like a real car, this car bed has a remote control that allows you to "open" the car, turn the lights on or off.
Genuine leather sports seats
Genuine leather sports seats and the inner surface of the bed are not only comfortable, soft, easy to maintain, protect from injury, but also give a real impression. The feel of a sports car is further enhanced by sporty seams.
Car lighting
Children are most impressed by the car's lighting. The GTE series beds can be equipped with headlights, taillights and fog lights. The lighting is also mounted on the underside of the car and on the rims.
Plexiglas details
The reality of car bed is also provided with plexiglass details that imitate the car's windows. High-quality organic PLEXIGLASS is characterized by extremely high optical properties, durability and strength. And you will be sure that the parts will not break and will be safe for your children.
Car floor lighting
Depending on the model, the underside of the car is illuminated in different colors. This car has a red bottom light.
The beds are sold without a mattress
You can choose mattresses suitable for beds from a wide range of our mattresses, which can be found here.

Assembly instructions
You can find a video of how the GTE bed is assembled by clicking on this link.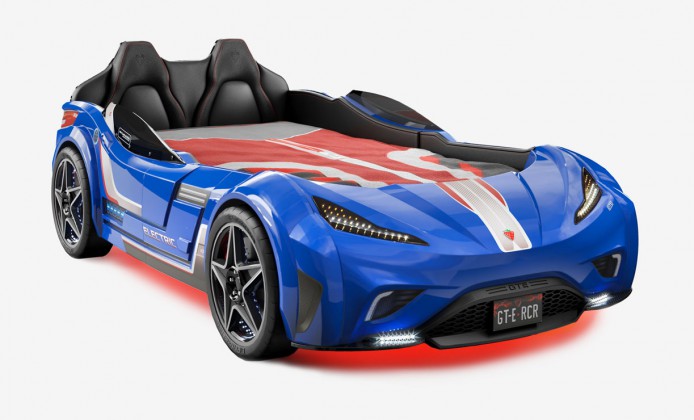 ORDER THIS PRODUCT ONLINE
_____________________________________________________________________
Price
1199€
-10% the discount will be applied in the shopping cart
Deadline for order fulfillment
90 d.
All models of the collection