Bookcase
PIMLICO
DIMENSIONS (L x W x H):
900 x 360 x 1730 mm
Height from floor to corpus: 150 mm
Open bookshelf
Shelf – extremely comfortable, functional and cozy furniture for the interior. On the open shelf you will conveniently store books or board games, flowers, souvenirs or other items that will decorate the interior.
Shiny brass accents
The whole collection is dark, laconic in shape, but with shiny brass elements. The wood is given color – by staining it. The subtle shiny brass color luxuriously accentuates the darkness of the wood. The legs are made of curved metal, painted in a shiny brass color.
The delicate color of shiny brass luxuriously accentuates the darkness of the wood
Exclusive, dark, "carbon" color with a light brown hue subtly contrasts with the rich, dark color of the body part.
Modern, elegant and high-quality furniture collection
High quality materials are used in the production, such as: natural oak or walnut shell, natural wood, metal, etc.
Oak veneered PLP corpus
Oak veneered charcoal stained particleboard (PLP) corpus.
Elegant and luxurious collection
A collection designed for fans of luxurious and modern classic style. Shiny brass accents are combined with a dark stained natural veneer, that gives the collection exclusivity.
A wide selection of furniture from the collection, so you can easily adapt the furniture in the study, living room or bedroom.
The furniture is made from wood from sustainable and socially responsible timber companies
The manufacturer is firmly committed to producing sustainable products. 2010 in July, the company was awarded the FSC® certificate, which confirms that all wood used for furniture is produced in accordance with the best standards of environmental practice.
Assembly instructions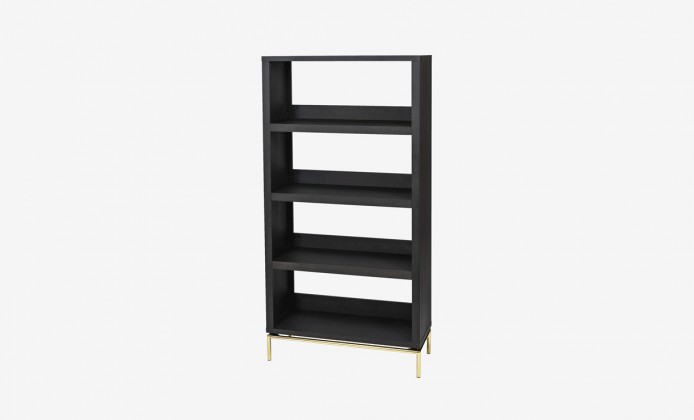 ORDER THIS PRODUCT ONLINE
_____________________________________________________________________
Deadline for order fulfillment
80 d.
All models of the collection