Bed
VIOLA 1800
DIMENSIONS (L x W x H):
1940 x 2100 x 1250 mm
Suitable for mattress: 1600 x 2000 mm
2210 x 2100 x 1250 mm
Suitable for mattress: 1800 x 2000 mm
Luxurious and stylish VIOLA double bed
The undoubted highlight of the bedroom is this stylish, luxurious, but at the same time practical double bed. Choose a narrower (1600 mattress) or wide (1800 mattress) version.
Features of the VIOLA collection
The latest furniture design solutions and elegant style are reflected in the VIOLA furniture collection of Italian designers. The purple elm panel exudes sophistication and coziness, which is further accentuated by dark chrome details (knobs, trim strips and legs). And luxury furniture is provided by a perfectly coordinated combination of glossy and matte, carved wood panels, clear and precise furniture lines.
The beds are sold without a mattress
Higher quality varnishes are used
Only water-based gloss varnishes are used in furniture production, and acrylic is of a higher quality, scratch-resistant and more light-fast than the old-style polyesters.
Sustainable materials are used in production
The panels and raw materials are 100% recyclable, contain no toxic adhesives and meet the latest international formaldehyde emission standards.
Assembly instructions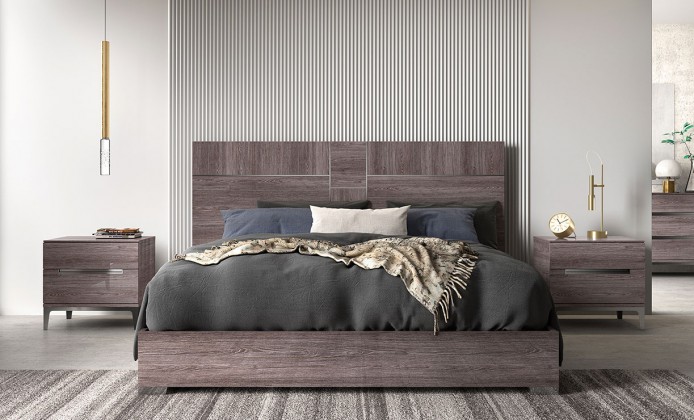 Create and order individually
1. FURNITURE DIMENSIONS (L x W x H)
Price
1112€
-10% the discount will be applied in the shopping cart
Manufacturing lead time:
82 d.
All models of the collection