Bed
SARAH 1600
DIMENSIONS (L x W x H):
1940 x 2090 x 1350 mm
Suitable for mattress: 1600 x 2000 mm
1940 x 2090 x 1350 mm
Suitable for mattress: 1800 x 2000 mm
When buying a mattress together with a bed, we will apply a 20% discount on the mattress. The discount will be applied at the final stage of the order, when our consultant will contact you.
The SARAH bed with a minimalist but refined design
The laconic design bed from the SARAH collection is decorated with chrome details that seem to enhance the impression of modernity and sophistication.
Higher quality varnishes are used
Only water-based gloss varnishes are used in furniture production, and acrylic is of a higher quality, scratch-resistant and more light-fast than the old-style polyesters.
Sustainable materials are used in production
The panels and raw materials are 100% recyclable, contain no toxic adhesives and meet the latest international formaldehyde emission standards.
The beds are sold without a mattress
Unique design
SARAH collection - for those looking for style, uniqueness, elegance, durability and functionality! A combination of gray birch patterns, a particularly shiny panel, laconic geometric shapes enlivened with shiny chrome details - all this will create a unique interior in your home.
Assembly instructions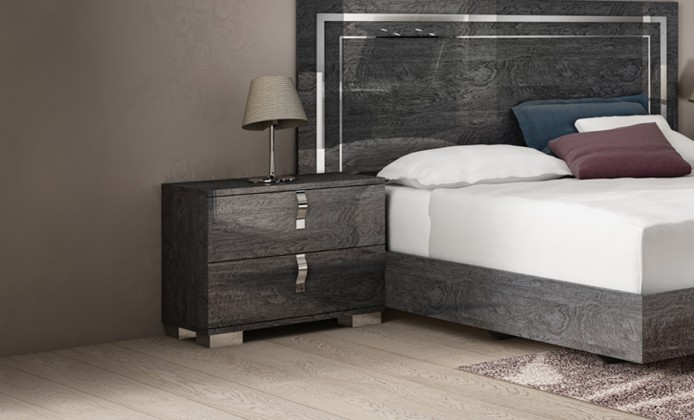 Create and order individually
1. FURNITURE DIMENSIONS (L x W x H)
Price
1087€
-10% the discount will be applied in the shopping cart
Manufacturing lead time:
82 d.
All models of the collection