Bed
ROMANTICA
From
285€
DIMENSIONS (L x W x H):
1055 x 2120 x 1010 mm
Suitable for mattresses: 1000 x 2000 mm
1254 x 2120 x 1010 mm
Suitable for mattresses: 1200 x 2000 mm
When buying a mattress together with a bed, we will apply a 20% discount on the mattress. The discount will be applied at the final stage of the order, when our consultant will contact you.
Romantic bed for children's and teenagers' room
A comfortable and romantic environment in Your children's bedroom will be created by a light, cozy and elegant single bed.
Provencal style facade
A distinctive feature of the ROMANTICA collection is the romantic and elegant facade details. The furniture is decorated with light, carved flowers, handles and doors are also decorated with carvings. Lightness and special beauty is given to the furniture by elegant, as if openwork legs.
You can buy a separate storage box - an extra pull-out bed
There is a possibility to order a storage box from the same collection, that fits under the bed and can be used as a storage box or an extra bed. Storage boxes are sold separately.

Ventilated bed base
The base of the bed is ventilated, it will ensure a long service life of the mattress and hygiene.
You can buy additional accessories to create a cozy atmosphere
In the ROMANTICA collection You will find additional accessories to create a cozy sleeping atmosphere. This includes a canopy, an extra storage bed and even a set of bedspreads in the same style.
The beds are sold without a mattress
You can choose mattresses suitable for beds from a wide range of our mattresses, which can be found here.

Made of quality materials
The furniture is designed and manufactured in accordance with advanced safety standards, from certified and high-quality, materials without carcinogenic.
Combine the furniture in the collection!
In order to maintain a unified style of the room or rooms – you can choose different models of furniture from one collection. The collection consists of several different sizes of chests of drawers, beds, bedside tables, tables. The accessories and interior details will give integrity to the style.

Assembly instructions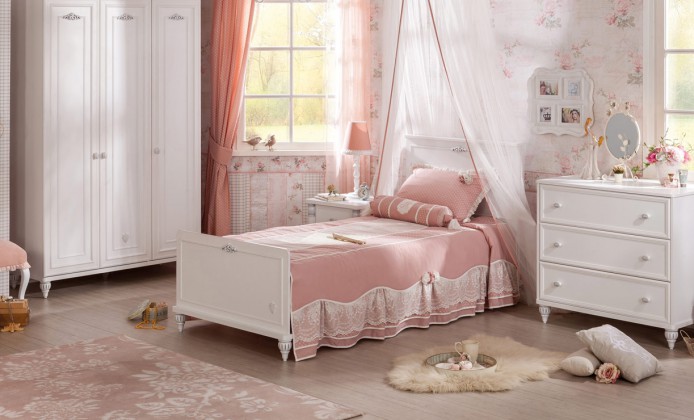 Create and order individually
1. FURNITURE DIMENSIONS (L x W x H)
Price
285€
-10% the discount will be applied in the shopping cart
Manufacturing lead time:
90 d.
All models of the collection