Bed
MOCHA LINE with Storage Box
DIMENSIONS (L x W x H):
1040 x 2060 x 650 mm
Suitable for mattress: 1000 x 2000 mm
1240 x 2060 x 650 mm
Suitable for mattress: 1200 x 2000 mm
Minimalist design bed with storage box MOCHA LINE
A practical and minimalist bed that will allow you to create the desired bedroom image. Choose an additional headboard and accessories.
Two-size bed options
1000 and 1200 mm wide beds for your choice. Choose the option that best meets your sleeping and space needs.

Design elements specific to the MOCHA collection
The collection will appeal to those who like peace of mind, coziness and simplicity. Classic forms, natural wood patterns, minimal details, rounded corners of furniture - will bring a glimmer of nature to your interior and will leave a lot of your imagination by combining the colors and accessories.
The beds are sold without a mattress
You can choose mattresses suitable for beds from a wide range of our mattresses, which can be found here.

With storage box - bed linen box
Because of lifting hinges, the top segment of furniture is open; therefore, it is possible to place different things into it conveniently and safely. The storage box is integrated with ventilation openings, which ensure proper air flow and the things stored there remain fresh.

Ventilation openings are installed
Ventilation openings are installed in the furniture to ensure air circulation. Your stored items will always stay fresh.

Fits robot - vacuum cleaner
The high legs of the furniture add elegance to the furniture, and also ensure that a robot of standard height can work free under it.

Made of quality materials
The furniture is designed and manufactured in accordance with advanced safety standards, from certified and high-quality, materials without carcinogenic.
Combine the furniture in the collection!
In order to maintain a unified style of the room or rooms – you can choose different models of furniture from one collection. The collection consists of several different sizes of chests of drawers, beds, bedside tables, tables. The accessories and interior details will give integrity to the style.

Assembly instructions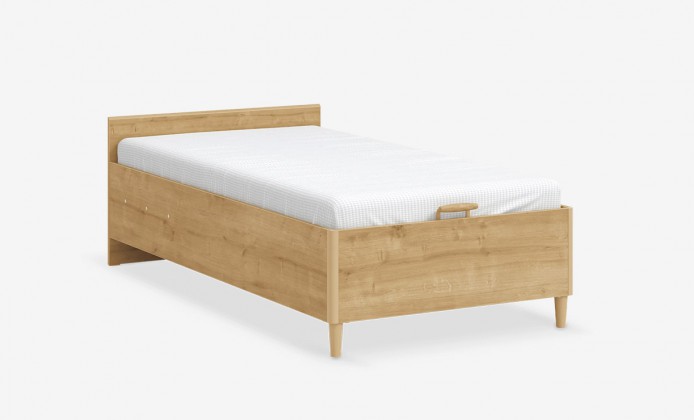 Create and order individually
1. FURNITURE DIMENSIONS (L x W x H)
Price
398€
-10% the discount will be applied in the shopping cart
Manufacturing lead time:
90 d.
All models of the collection