Bed
KING REST
Price with fabric From
981€
DIMENSIONS (L x W x H):
1080 x 2180 x 1200 mm
Suitable for mattress: 900 x 2000 mm; Specified height is with 130 mm legs
1780 x 2180 x 1200 mm
Suitable for mattress: 1600 x 2000 mm; Specified height is with 130 mm legs
1980 x 2180 x 1200 mm
Suitable for mattress: 1800 x 2000 mm; Specified height is with 130 mm legs
When buying a mattress together with a bed, we will apply a 20% discount on the mattress. The discount will be applied at the final stage of the order, when our consultant will contact you.
Subtle style bedroom bed
KING REST is a very comfortable minimalist style bed with a wide upholstered headboard. Choose the support pillow fabric separately and create a unique piece of furniture for your bedroom.
This product is assessed with a golden medal
This product was awarded a gold medal in the LITHUANIA PRODUCT OF THE YEAR competition organized by the Confederation of Lithuanian Industrialists.

KING REST – a royal bed for anyone
Subtle aesthetics and rounded furniture shapes can blend gently and unpretentiously into any interior. By choosing different legs and support cushions' fabrics, one can be create contrasting as well as a very subtle arrangement that suits your interior and your needs.
Beds are sold without a mattress
For this bed, we recommend choosing mattresses from the KING REST collection or other mattresses produced by us. When choosing mattresses from other manufacturers, pay attention to the length of the mattress, mattresses longer than 2000 mm may protrude beyond the edge of the bed storage box. You can find the entire range of mattresses HERE.

Nusegama ir patogi atraminė pagalvė
Prie galvūgalio tvirtai užtrauktuku prisegta atraminė pagalvė – praktiškas ir estetiškas lovos akcentas. Jei kartais mėgstate lovoje skaityti, ar tiesiog naršyti internete patogiai, šiltai ir minkštai įsikūrę lovoje – KING REST lovos atraminė pagalvė suteiks labai daug komforto. Į ją patogu minkštai atremti nugarą, ji nejuda, jos nereikia nuolat pasitaisyti. Taip pat, jai galite pasirinkti kitokį audinį nei pačiai lovai. Kontrastingas ar raštuotas audinys pavers pagalvę ryškiu akcentu, tuo tarpu subtilus spalvų derinys suteiks interjerui dinamikos, neapkraunant jo aktyviomis detalėmis.
Unique lighting solutions
You can choose a bed with a head-mounted lamp with USB charging sockets, or you can choose a lighting system that is mounted under the bedding box. The latter responds to movement and is activated when a person climbs out of bed and places their feet on the floor. It's a dim light that won't wake one up if one only needs to get up for a moment and then get back to bed soon.
You can choose the furniture leg design and height
Choose the leg design and height you like. We offer to choose from several legs of different heights: 130 mm, 100 mm, 50 mm.
K130 leg – 130 mm high, DA130 – 130 mm high, K100 – 100 mm high, K50 – 50 mm high.
With a storage box
There is a storage space underneath the mattress. Which opens from the back of the bed by lifting the mattress. When the storage space has fully opened the hinge fixates the position, for safe and convenient use. The storage box has ventilation holes to prevent condensation and to ensure ventilation.
The back of the bed is made of technical fabric
The back of the headboard is made of technical fabric, so the furniture is placed against the wall.

You can choose the colour of the legs
You can choose the colour of the legs from the palette of offered colours. This will allow you to complete only the unique furniture that suits your interior.
You can choose from a huge variety of fabrics
From the wide range of fabrics we offer, choose the option you like best: take into account how selected fabric will match to other existing furniture, pay attention to how the fabric looks under natural and artificial lighting, how the color and pattern change when looking at fabric from different sides. All this will make it easier for you to choose the fabric that meets your expectations.
Assembly instructions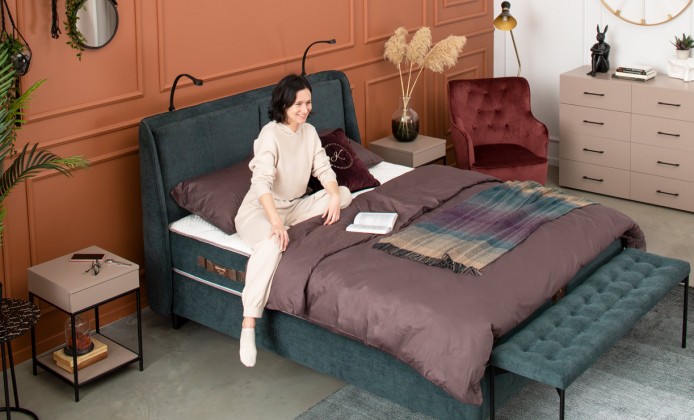 Create and order individually
1. FURNITURE DIMENSIONS (L x W x H)
2. CHOOSE FURNITURE UPHOLSTERY
Hard to choose? Order samples of fabrics for your home for free!
3. CHOOSE THE COLOR OF THE LEGS
4. LIGHTING
Price
981€
-10% the discount will be applied in the shopping cart
Manufacturing lead time:
depends on options
All models of the collection