Baby cot
MINO BABY transforming
DIMENSIONS (L x W x H):
1870 x 870 x 1090 mm
MINO BABY for many years of use
A particularly practical and popular solution is transformable beds. This MINO BABY will serve you both as a bed for a baby with all the necessary attributes (you will also have an additional place to sleep, a dresser for storing hygiene products, a baby changing board and functional bed), and as a furniture set in a teenager's room (you will have a full-fledged, single bed, a small chest of drawers and shelf).
Design features of the MINO BABY collection
A unique feature of the MINO BABY collection is the combination of gray, white and natural wood colors, which creates a feeling of coziness and warmth, but at the same time modern and contemporary. The exclusive details of the collection are rounded, oval-shaped handles that arouse children's curiosity and the desire to explore. In the collection you will find all the necessary furniture and accessories for the baby's room.
Crib set
In infancy you will have a cot with a baby changing pad, a spacious chest of drawers and shelves and an extra storage box that can be used as a parent's bed. And in the later age you will be able to transform the bed into a separate bed with a storage box and two separate pieces of furniture - a chest of drawers and a shelf.
Ventilated bed base
The base of the bed is ventilated, it will ensure a long service life of the mattress and hygiene.
Adjustable height of the cot edge
Depending on the age and needs of the baby, the edge of the cot can be raised or lowered with the help of telescopic rods.
From birth to school
Due to its unique design, the crib can be used from birth to school age. The manufacturer recommends a cot for children 0-12 years.
The beds are sold without a mattress
You can choose mattresses suitable for beds from a wide range of our mattresses, which can be found here.

Drawers with soft close
The furniture has a built-in drawers with a gentle closing. This will ensure a quiet and comfortable closing - they will not hit the furniture corpus and will gently return to the starting position.

Made of quality materials
The furniture is designed and manufactured in accordance with advanced safety standards, from certified and high-quality, materials without carcinogenic.
Combine the furniture in the collection!
In order to maintain a unified style of the room or rooms – you can choose different models of furniture from one collection. The collection consists of several different sizes of chests of drawers, beds, bedside tables, tables. The accessories and interior details will give integrity to the style.

Assembly instructions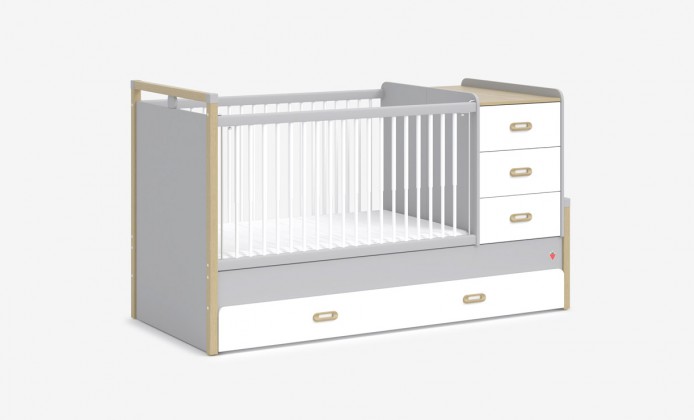 ORDER THIS PRODUCT ONLINE
_____________________________________________________________________
Price
905€
-10% the discount will be applied in the shopping cart
Deadline for order fulfillment
90 d.
All models of the collection