Armchair
VILNIUS
Price with fabric From
418€
DIMENSIONS (L x W x H):
770 x 720 x 820 mm
Small but comfortable - VILNIUS armchair
VILNIUS armchair is an ideal choice for creating a complete interior image. By combining several armchairs and a table - you will create a cozy relaxation oasis in the living room, waiting room, spa area, by combining a sofa, armchairs and a table from the same collection - you will create a complete interior of the living room, choose corners and several armchairs to furnish large spaces.
Design features of the VILNIUS collection
Rounded corners, graceful, curved shapes, soft teddy fabrics, delicate shiny metal details, elegant, decorative seams - the design of the VILNIUS collection, which exudes royal luxury and comfort, is intended for your relaxation.
A gift for those who buy the VILNIUS furniture collection - a decorative cushion
For everyone who buys a VILNIUS corner or sofa - we give a KING or QUEEN cushion of the chosen color and design. You can choose from five fabric shades and two inscriptions.

You can choose the colour of the legs
You can choose the colour of the legs from the palette of offered colours. This will allow you to complete only the unique furniture that suits your interior.
A variety of choices in the VILNIUS collection
We want our customers to have the opportunity to participate in the creation of furniture design themselves. By choosing the VILNIUS collection, you will not only have the freedom to choose from several corner and table options, but also to create each model according to the prevailing colors and style in your interior. You will be able to choose the colors and structure of the tapestry of the furniture and cushions, the colors and materials of the legs (we have single-color, metal and wooden legs with metal tips), and the color of the edging strip.
You can choose from a huge variety of fabrics
From the wide range of fabrics we offer, choose the option you like best: take into account how selected fabric will match to other existing furniture, pay attention to how the fabric looks under natural and artificial lighting, how the color and pattern change when looking at fabric from different sides. All this will make it easier for you to choose the fabric that meets your expectations.
Fits robot - vacuum cleaner
The high legs of the furniture add elegance to the furniture, and also ensure that a robot of standard height can work free under it.

Assembly instructions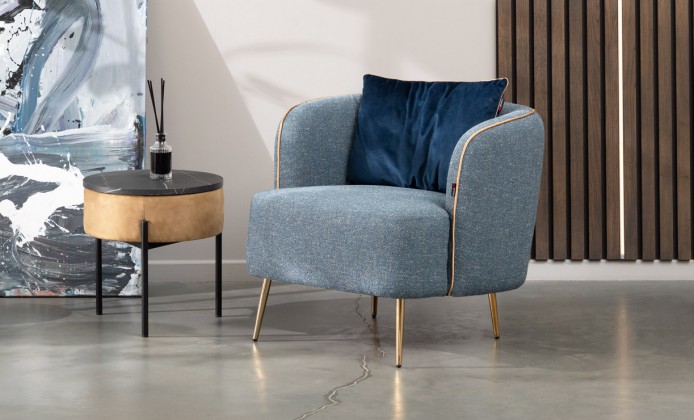 Create and order individually
1. FURNITURE DIMENSIONS (L x W x H)
2. CHOOSE FURNITURE UPHOLSTERY
Hard to choose? Order samples of fabrics for your home for free!
3. CHOOSE UPHOLSTERY FOR OTHER FURNITURE PARTS
Choose upholstery for furniture details marked gray in the photo (click on the letter "i")
Hard to choose? Order samples of fabrics for your home for free!
4. THE COLOR OF THE EDGING STRIP
5. CHOOSE THE COLOR OF THE LEGS
Price
418€
-10% the discount will be applied in the shopping cart
Manufacturing lead time:
depends on options
All models of the collection