819€
Dimensions (LxWxH):
Total set dimensions: 1555 x 390 x 1945 mm
Shelf dimensions: 755 x 380 x 1945 mm; Showcase dimensions: 400 x 390 x 1945 mm
From shelves and showcases - arrange furniture of any size
Simple collection showcases – for convenient storage. Combine showcases with shelves to create the most suitable size of furniture for you – the library. The showcases come with a door that can be changed as you wish (you can easily change which side the door should open on). LED luminaires are installed inside the showcases. Doors with "soft closing" function.
Made of quality materials
The legs of the black furniture are made of metal. Wooden legs – made of oak wood. Handles – metal. Cabinet and facade parts of oak and gray furniture are made of LMDP. White furniture cabinets are made of LMDP, facades – painted panel, covered with matt, "Soft touch" varnish. Black furniture cabinets and facades are made of painted panels covered with matt Soft touch varnish. Soft touch varnish creates an extremely soft, slightly rubberized surface.
Adjustable shelves
Inside the furniture – two height-adjustable shelves.
Built-in LED lighting inside
Furniture legs are made of metal or natural oak
The furniture comes with black metal or oak legs. Leg height – 90 mm.
Wide range of colors
Choose or match different models of furniture from different colors. The colors of the collection are extremely neutral, so they will be suitable for any color interior.
Functional and comfortable
The Simple collection is simple and functional. From different furniture modifications, you can combine furniture for different rooms: from an entrance hall to a bedroom or even a children's room.
Assembly instructions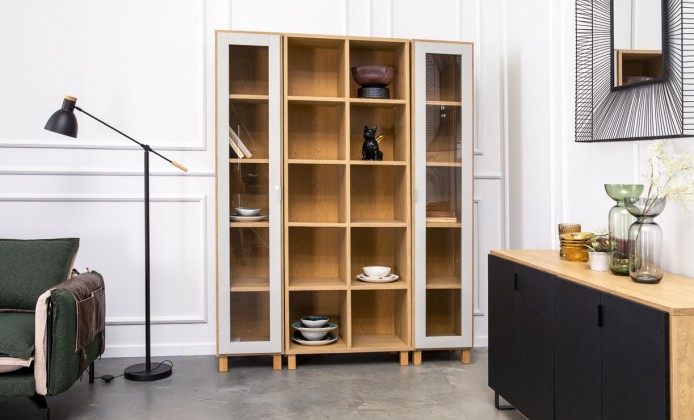 All models of the collection