Table
CITY
From
250€
DIMENSIONS (L x W x H):
700 x 700 x 390 mm
800 x 800 x 460 mm
Lets create your own CITY table
Create your own CITY table from a three-color veneered tabletop, a wide color palette of metal legs, and two size options.
Table top edge type
The edge of the veneer laminated board is cut at an angle of 45°. Such milling of the edge will give the furniture lightness, decorativeness and uniqueness. Laminated edges of wood chips or high-pressure laminate panels are processed at a classic, 90° angle.
Versitile, easily adaptable design
The tables, due to their shape and subtle design, will fit perfectly in any interior, whether in personal or public space. The tables can be displayed together because they come in two sizes. The smaller table fits well under the larger table. T the patterns or colors, of the two tables, can be different – creating a more interesting table composition, that can become a highlight of the room. The table can also be used near the couch or a corner sofa, making optimum use of the space. You can comfortably fit a lamp, a book, or a cup on it. These tables easily decorate a workroom, hallway, or bedroom, and can also be used in a children's room.
You can choose the colour of the legs
You can choose the colour of the legs from the palette of offered colours. This will allow you to complete only the unique furniture that suits your interior.
You can choose the colour of the table-top
Choose the shade of wooden parts from the offered range. By combining the colors of upholstered furniture tapestries and wooden parts of cabinet furniture, you will create unique combinations unique to your interior.
Properties of Shell
Since the shell is a natural raw material, each product is unique in its patterns and color, and may differ slightly from the one shown in the photos or exhibition.
Assembly instructions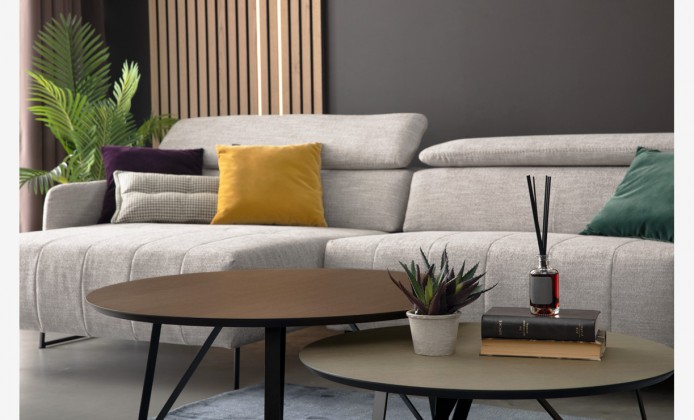 Create and order individually
1. FURNITURE DIMENSIONS (L x W x H)
2. CHOOSE TABLE COLOR
3. CHOOSE THE COLOR OF METAL
Price
250€
-10% the discount will be applied in the shopping cart
Manufacturing lead time:
depends on options