Table
BETA
DIMENSIONS (L x W x H):
810 x 670 x 425 mm
Scandinavian style table BETA
The irregular triangular BETA table looks great both alone and in combination with the higher GAMA table.

Versitile, easily adaptable design
The tables, due to their shape and subtle design, will fit perfectly in any interior, whether in personal or public space. The tables can be displayed together because they come in two sizes. The smaller table fits well under the larger table. T the patterns or colors, of the two tables, can be different – creating a more interesting table composition, that can become a highlight of the room. The table can also be used near the couch or a corner sofa, making optimum use of the space. You can comfortably fit a lamp, a book, or a cup on it. These tables easily decorate a workroom, hallway, or bedroom, and can also be used in a children's room.
You can choose the colour of the table-top
Choose the shade of wooden parts from the offered range. By combining the colors of upholstered furniture tapestries and wooden parts of cabinet furniture, you will create unique combinations unique to your interior.
You can choose the colour of the legs
You can choose the colour of the legs from the palette of offered colours. This will allow you to complete only the unique furniture that suits your interior.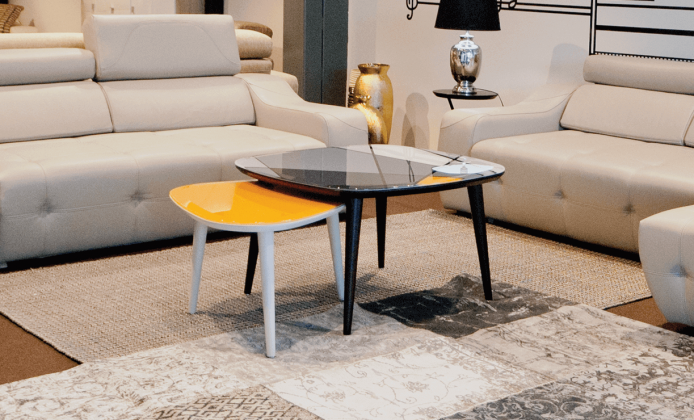 Create and order individually
1. FURNITURE DIMENSIONS (L x W x H)
2. CHOOSE THE COLOR OF THE TABLE TOP
Price
183€
-10% the discount will be applied in the shopping cart
Manufacturing lead time:
depends on options