Sofa - bench
ROMA
Price with fabric From
332€
DIMENSIONS (L x W x H):
1545 x 570 x 870 mm
Gracefully shaped sofa
ROMA is a small, delicate, and practical sofa bench. This is a piece of furniture that will replace two or three chairs in the dining room and create a cozy atmosphere in the hallway or lounge area.
Sofas frame is made from plywood
Plywood is an extremely strong wood product made from several sheets of wood veneer glued together. Using plywood makes the frame strong and durable.
Match with MAGRĖS BALDAI chairs in the dining room
Match and create a dynamic dining area with ROMA sofa and chairs. For a more traditional arrangement, choose ROMA chairs, and for a contrasting interior pick other MAGRĖS BALDAI chairs, which can be from the same fabric as a sofa, but you can also create unique combinations using different colors or fabrics that match the interior.
Ergonomic backrest
The back of furniture is ergonomic, tilted back slightly for comfort.
Choose a leg color
Choose from five different leg styles. The legs are made of wood. They are very stable. Carefully selected colors can easily be matched with our fabrics.
You can choose from a huge variety of fabrics
From the wide range of fabrics we offer, choose the option you like best: take into account how selected fabric will match to other existing furniture, pay attention to how the fabric looks under natural and artificial lighting, how the color and pattern change when looking at fabric from different sides. All this will make it easier for you to choose the fabric that meets your expectations.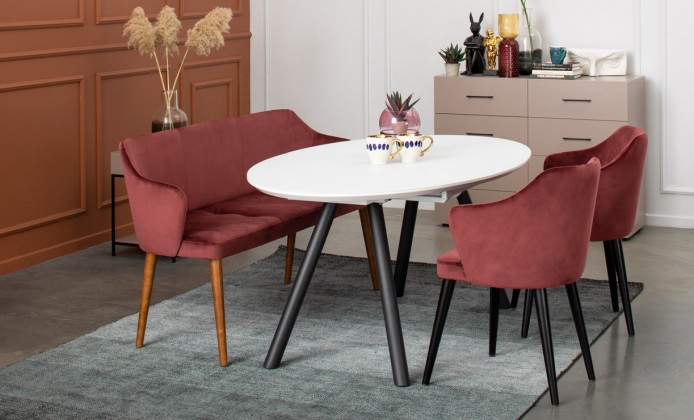 Create and order individually
1. FURNITURE DIMENSIONS (L x W x H)
2. CHOOSE FURNITURE UPHOLSTERY
Hard to choose? Order samples of fabrics for your home for free!
3. CHOOSE THE COLOR OF THE LEGS
Manufacturing lead time:
depends on options
BALDO KONSTRUKCIJA
Renkantis minkštąjį baldą, svarbu ne tik išorinis dizainas, bet ir vidinė jo konstrukcija. Galite būti tikri, kad "Magrės baldų" produkcija pagaminta iš kokybiškų ir patvarių medžiagų. Daugelis Lietuvos ir kitų šalių šeimų puikiai įvertino "Magrės baldų" gaminių kokybę ir patvarumą, todėl drąsiai rekomenduoja juos savo draugams bei artimiesiems.