Bed
LEDI
Price with fabric From
1021€
DIMENSIONS (L x W x H):
2100 x 1560 x 990 mm
Suitable for mattress: 1400 x 2000 mm
2100 x 1760 x 990 mm
Suitable for mattress: 1600 x 2000 mm
2100 x 1960 x 990 mm
Suitable for mattress: 1800 x 2000 mm
When buying a mattress together with a bed, we will apply a 20% discount on the mattress. The discount will be applied at the final stage of the order, when our consultant will contact you.
Minimalis design bed LEDI
Comfortable, minimalist design bed LEDI with integrated large storage compartment, lighting. You can choose from more than 200 different fabrics.

With a storage box
There is a storage space underneath the mattress. Which opens from the back of the bed by lifting the mattress. When the storage space has fully opened the hinge fixates the position, for safe and convenient use. The storage box has ventilation holes to prevent condensation and to ensure ventilation.
Beds are sold without a mattress
For this bed, we recommend choosing mattresses produced by us. When choosing mattresses from other manufacturers, pay attention to the length of the mattress, mattresses longer than 2000 mm may protrude beyond the edge of the bed storage box. You can find the entire range of mattresses HERE.

You can choose from a huge variety of fabrics
From the wide range of fabrics we offer, choose the option you like best: take into account how selected fabric will match to other existing furniture, pay attention to how the fabric looks under natural and artificial lighting, how the color and pattern change when looking at fabric from different sides. All this will make it easier for you to choose the fabric that meets your expectations.
The back of the bed is made of technical fabric
The back of the headboard is made of technical fabric, so the furniture is placed against the wall.

Unique lighting solutions
You can choose a bed with a head-mounted lamp with USB charging sockets, or you can choose a lighting system that is mounted under the bedding box. The latter responds to movement and is activated when a person climbs out of bed and places their feet on the floor. It's a dim light that won't wake one up if one only needs to get up for a moment and then get back to bed soon.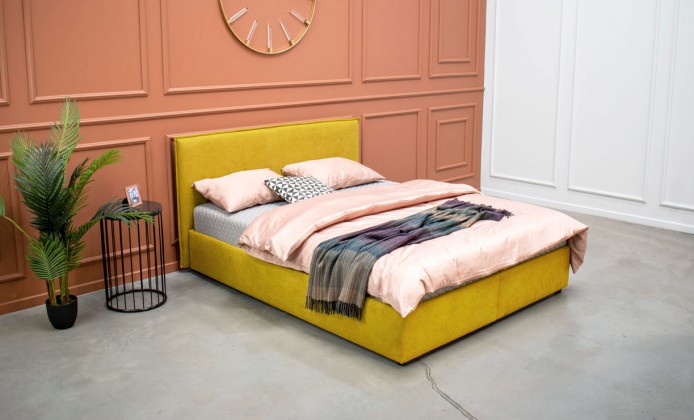 Create and order individually
1. FURNITURE DIMENSIONS (L x W x H)
2. CHOOSE FURNITURE UPHOLSTERY
Hard to choose? Order samples of fabrics for your home for free!
3. LIGHTING
Price
1021€
-10% the discount will be applied in the shopping cart
Manufacturing lead time:
depends on options