Diffuser
BURTAI
BURTAI diffuser with a soft, sweet, but unobtrusive scent
BURTAI diffuser with a soft, sweet, but unobtrusive scent - for the living room, the bedroom, and to create coziness in the bathroom.
Stylish bottle with a burgundy colored scent - a decoration in the interior
The exclusive scent in burgundy color will decorate the interior and give elegance.

Scent notes: red grapes, apples and ambergris
It is a light, non-intense scent that looks sweet at first, but gets a softer and fresher "shade" when spread in the room. The aroma of grapes and apples used in the composition of the scent provides freshness, which is enriched with a deeper amber aroma. The smell is perfect for all rooms as it is not intrusive and strong. It can be perfectly built in the workplace, living room, bathroom, etc.

Home Scent Diffusers with Sticks
The set includes a 100 ml home scent in a glass bottle and 8 pcs. black sticks. The smell can last up to 160 days (5-6 months), of course, it all depends on where it stands. For a more intense smell - it is advisable to turn the sticks.

This is a great gift not only for a friend but for yourself!
The fragrance collection is designed for those who like unobtrusive, non-irritating scents. These scents are not niche, heavy or "screaming". Spreads easily and quickly indoors.
All scents, candles and toppings are packed in beautiful boxes. Scent and candle boxes are exclusive - roll-shaped with gold details, scent additions - in natural cardboard packaging with a figured cutout on the front.

This is a great gift not only for a friend but for yourself!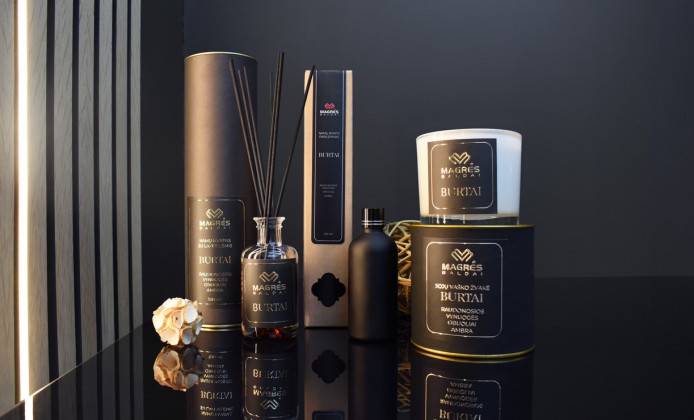 ORDER THIS PRODUCT ONLINE
_____________________________________________________________________
Price
25€
-10% the discount will be applied in the shopping cart
Deadline for order fulfillment
7 d.