TV Unit
ZOOM 1667
DIMENSIONS (L x W x H):
1667 x 430 x 464 mm
2030 x 430 x 464 mm
ZOOM TV cabinets in two sizes
The designers of the ZOOM collection can offer you a TV cabinet that best meets the requirements of your recreation area. Choose a larger (2030 mm, two drawers and two shelves) or a more compact (1667 mm, one drawer and two shelves) model.
Drawers with "soft closing" mechanism
"Gentle closing" is like a new classic in furniture production and used fittings. This type of mechanism ensures that the drawers do not break into the cabinet.
Exclusive, 3D facade pattern
The collection is unique in its design solution. Simple, clear-shaped furniture with a distinctive 3D patterned facade. Modern pattern, suitable for both classic and modern interiors.
Choose the color option you like best
You can choose from several color modifications: dark or light oak body with bluish-gray or gray-white matte facade. In order to create a solid, maintained style, combine the colors of the cabinet furniture with the floor, wall covering, and tones prevailing in the interior.
The ZOOM Collection is full of different furniture models
In order to maintain a unified style of the room or rooms – you can choose different models of furniture from one collection. The collection consists of several different sizes of chests of drawers, showcases, TV tables.
Facades are made of laminated MDF
Exclusive facades that give expressiveness to this collection are made of laminated MDF board.
The housing is made of veneer laminated board
Oak veneer laminated board, which is used in the production of furniture – gives luxury and elegance to this collection. As soon as you touch the furniture, you can feel the quality.
The door opens with one click
The furniture door opens extremely easily and simply – with one click.
ZOOM Sturdy metal legs
Modern, minimalist, metal legs add elegance, a kind of playfulness and durability to the ZOOM collection.
Assembly instructions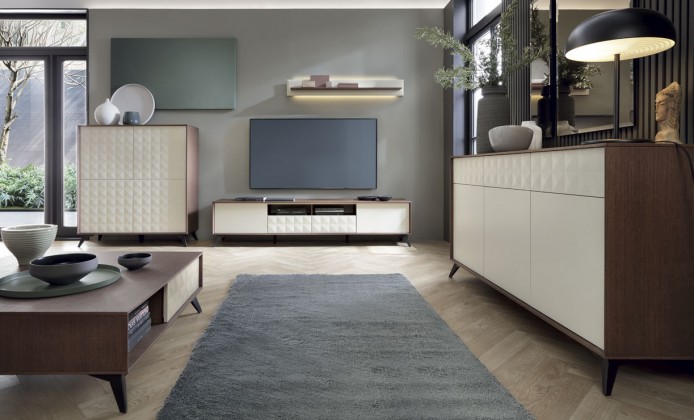 Create and order individually
1. FURNITURE DIMENSIONS (L x W x H)
2. CHOOSE COLOR COMBINATION
Price
607€
-5% the discount will be applied in the shopping cart
Manufacturing lead time:
80 d.
All models of the collection