Outdoor table
FRESCO
DIMENSIONS (L x W x H):
800 x 700 x 300 mm
Ash outdoor table FRESCO
A small, light FRESCO table will complement and complete the interior of the outdoor recreation area. For a wider space or near three-seater corner sofas, you can combine a couple of tables. Choose natural wood or black.

Materiality of outdoor furniture
In the production of outdoor furniture, high-quality ash wood is used, which is characterized by unique aesthetics, cozy warmth and high mechanical resistance. High-quality water-based varnishes ensure the furniture's resistance to negative environmental effects. The pillows are made of extremely light, durable and easy-to-clean fabric.
Design features of the FRESCO collection
The distinguishing feature of the FRESCO collection is its unique, easily adaptable design and the possibility to assemble outdoor furniture according to individual preferences. The main focus of the designers in creating this collection is high quality, comfort, exclusive design and connection with nature.
Wood from sustainable and socially responsible wood extraction companies is used in the production of furniture
The manufacturer is strongly committed to producing sustainable products. The company is FSC® certified, confirming that all the wood used in the furniture is produced according to the best environmental practice standards.
Wide usage
Although it is common to see outdoor furniture on terraces or in home gardens, due to its extremely high quality, this furniture can be used both indoors and outdoors, in both domestic and commercial environments, such as cafes, public lounges or offices.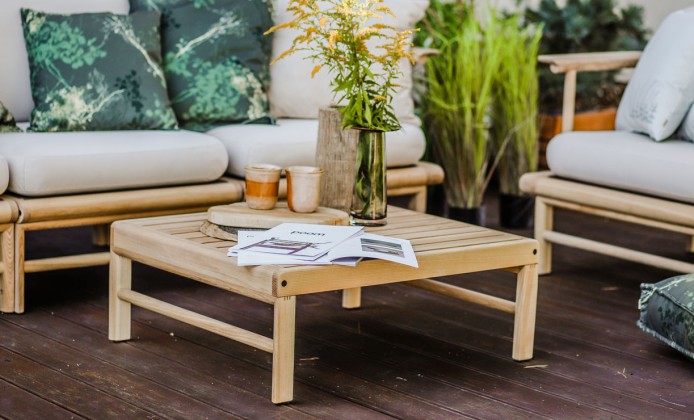 Create and order individually
1. FURNITURE DIMENSIONS (L x W x H)
2. CHOOSE THE COLOR OF THE WOODEN DETAILS
Price
392€
-10% the discount will be applied in the shopping cart
Manufacturing lead time:
30 d.
All models of the collection