Ches of drawers
LUCCA 1000
DIMENSIONS (L x W x H):
1000 x 500 x 1150 mm
Chest of drawers of exceptional dimensions
Chest of non-standard dimensions with four push-open doors. The shelves of a capacious chest of drawers can store dishes, clothes or other personal items - so the furniture can be placed in the hallway, living room or bedroom.
A combination of classic and modern elements
The LUCCA collection is classic colors and shapes with modern details - matte concrete imitation panel, black metal elements. The seemingly massive furniture is given lightness and grace by metal legs with a unique design.
Materiality
The LUCCA collection is unique with a combination of walnut and concrete imitation panels, complemented by black, metal furniture legs. Matt, concrete imitation top plate - not only stylish, but also a practical element - the furniture will not require special care.
Fits robot - vacuum cleaner
The high legs of the furniture add elegance to the furniture, and also ensure that a robot of standard height can work free under it.

Press to open the door
Furniture doors are open by pressing. This emphasizes the minimalist design of the furniture, where there are no additional design-functional elements. Everything is solved by the choice of furniture fittings.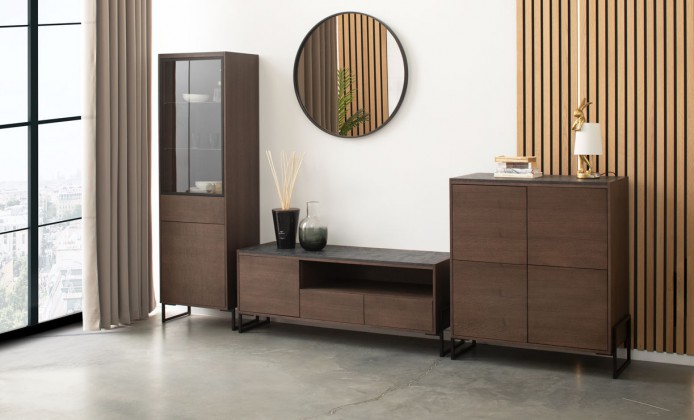 ORDER THIS PRODUCT ONLINE
_____________________________________________________________________
Deadline for order fulfillment
47 d.
All models of the collection