TV Unit
CALIFORNIA
DIMENSIONS (L x W x H):
2260 x 520 x 440 mm
TV cabinet CALIFORNIA
The long, narrow CALIFORNIA TV cabinet with three different drawers optically extends the space, combined with other furniture from the collection (eg: open and closed shelfs, mirror) will create an aesthetic and integrated relaxation space in your living room.
Fits robot - vacuum cleaner
The high legs of the furniture add elegance to the furniture, and also ensure that a robot of standard height can work free under it.

Drawers with soft close
The furniture has a built-in drawers with a gentle closing. This will ensure a quiet and comfortable closing - they will not hit the furniture corpus and will gently return to the starting position.

Design features of the CALIFORNIA collection
The CALIFORNIA collection is characterized by a particularly artistic design, complemented by exclusive materials and furniture production technologies. The collection is given delicacy and exclusivity by oak veneer veneer processed with a special aging technique, metal asymmetric handles, processed with copper-colored paint, which gives a "silky" smoothness, and decorative millings repeated on various furniture doors.
The materiality of the CALIFORNIA collection
The collection is made using natural oak veneered MDF board. The surfaces are painted with a special "patina" technique, which to create the appearance of aged wood. Legs and other metal parts are made of 10 mm sheet metal painted with electrostatic paint.
Properties of Shell
Since the shell is a natural raw material, each product is unique in its patterns and color, and may differ slightly from the one shown in the photos or exhibition.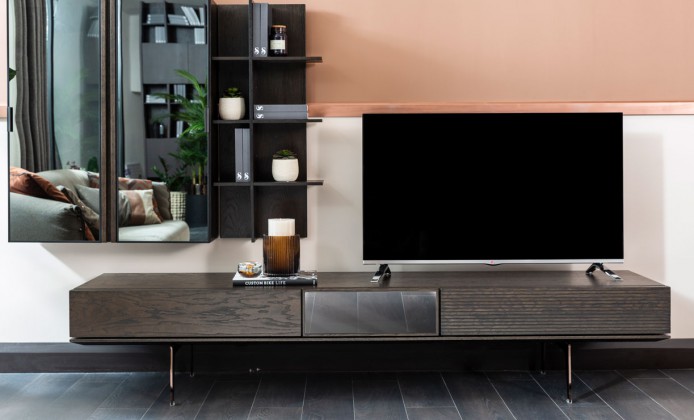 ORDER THIS PRODUCT ONLINE
_____________________________________________________________________
Deadline for order fulfillment
7 d.
All models of the collection