Table
GIADA
From
1163€
DIMENSIONS (L x W x H):
1400 x 900 x 750 mm
Extends up to 2200 mm
1600 x 900 x 750 mm
Extends up to 2400 mm
1800 x 900 x 750 mm
Extends up to 2800 mm
Subtle and minimalistic Italian table GIADA
In its symmetrical shape, the GIADA dining table conquers the stage and decorates, creating an unparalleled aesthetic balance.

Choose the type and color of the tabletop
Depending on your interior, the predominant colors and possibilities, you can choose melamine-coated panels or a ceramic table top. In the palette, melamine countertops are marked with the letter "N" and ceramics with the letter "K".

Table extensions
Extensions for tables with a ceramic table tops are made of MDF, the same color as the table panel (without ceramic coating). If you choose a table top of laminated chipboard - the extensions are made from the same material.

Metal Frame of the Table
The main goal of the manufacturer is to create unique, robust, multifunctional products. Therefore, the production process uses an extremely strong metal frame, which allows to implement a wide range of furniture transformations. The strong, metal table frame guarantees stability during unfolding and a long service life.

Metal table legs
The manufacturer's tables are characterized by extremely strong metal alloy legs. Sturdy metal legs ensure the stability and durability of the furniture. In addition, from the offered palette you will be able to choose the most suitable metal color for your countertop or interior.
You can see all table tops and metal samples in our branded showrooms
Assembly instructions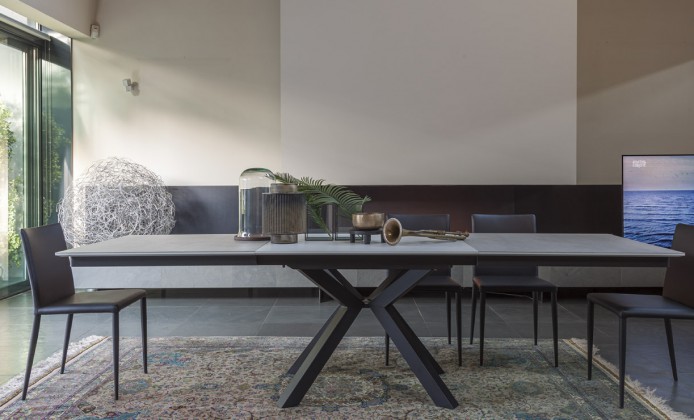 Create and order individually
1. FURNITURE DIMENSIONS (L x W x H)
2. CHOOSE TABLE COLOR
3. CHOOSE THE COLOR OF METAL
Price
1163€
-10% the discount will be applied in the shopping cart
Manufacturing lead time:
7 d.