Showcase
PRESTIGE 1070
DIMENSIONS (L x W x H):
1070 x 430 x 1900 mm
Two-door showcase PRESTIGE
In the two-door display case, you can conveniently and functionally store all household or tableware tools. On closed shelves - less frequently used items, on open, illuminated glass shelves, crystal dishes, glass accessories or other souvenirs you like will look amazing.
Unique design of the PRESTIGE collection
Furniture from the PRESTIGE collection will undoubtedly make your home exclusive and extravagant. Exclusive Italian design is created by laconic geometric shapes of furniture, clear silhouettes, interweaving of birch patterns, a particularly glossy panel, glass and chrome details. And of course, expressive, shiny and attention-grabbing metal handles!
Tempered glass details
The glass doors used in the PRESTIGE collection are made of tempered, 4 mm thick glass. The thickness of the inner glass shelves is 8 mm. All for your safety!
LED lighting
Cozy LED lighting is installed in the display case, which you can conveniently turn on/off with a tap. The cozy light contrasting with the dark furniture body creates new mood and entrance.
The doors of furniture with soft close
The furniture has a built-in doors with a gentle closing. This will ensure a quiet and comfortable closing - they will not hit the furniture corpus and will gently return to the starting position.

Higher quality varnishes are used
Only water-based gloss varnishes are used in furniture production, and acrylic is of a higher quality, scratch-resistant and more light-fast than the old-style polyesters.
Sustainable materials are used in production
The panels and raw materials are 100% recyclable, contain no toxic adhesives and meet the latest international formaldehyde emission standards.
Assembly instructions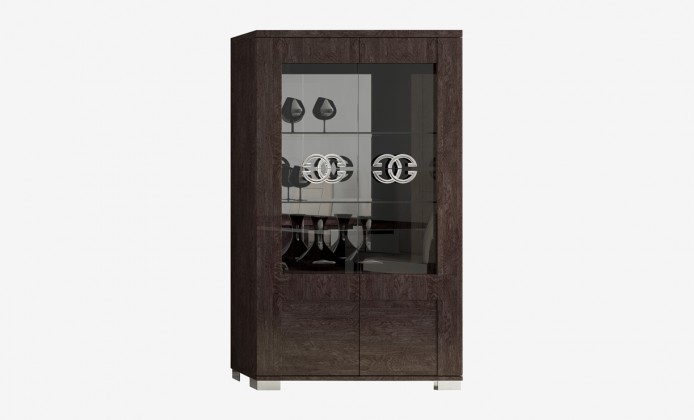 ORDER THIS PRODUCT ONLINE
_____________________________________________________________________
Price
1266€
-5% the discount will be applied in the shopping cart
Deadline for order fulfillment
82 d.
All models of the collection