Dining table
PRESTIGE folding 1800
DIMENSIONS (L x W x H):
1800 x 1040 x 760 mm
Extends up to 2250 mm
1800 x 1040 x 760 mm
Extends up to 2700 mm
Extendable dining table PRESTIGE
The PRESTIGE table with a laconic design is designed to bring celebration and elegance to your home. Extremely shiny table top, stainless steel details, playfully intertwined birch patterns will create a special atmosphere around your dining table.
Unique design of the PRESTIGE collection
Furniture from the PRESTIGE collection will undoubtedly make your home exclusive and extravagant. Exclusive Italian design is created by laconic geometric shapes of furniture, clear silhouettes, interweaving of birch patterns, a particularly glossy panel, glass and chrome details. And of course, expressive, shiny and attention-grabbing metal handles!
Higher quality varnishes are used
Only water-based gloss varnishes are used in furniture production, and acrylic is of a higher quality, scratch-resistant and more light-fast than the old-style polyesters.
Sustainable materials are used in production
The panels and raw materials are 100% recyclable, contain no toxic adhesives and meet the latest international formaldehyde emission standards.
Two extension options
Depending on your needs, the size of the living room, the number of guests, you can choose table with one or two extensions. Accordingly, you will extend the table by 450 mm or 900 mm. The total length of the table will be 2250 mm or 2700 mm.

Assembly instructions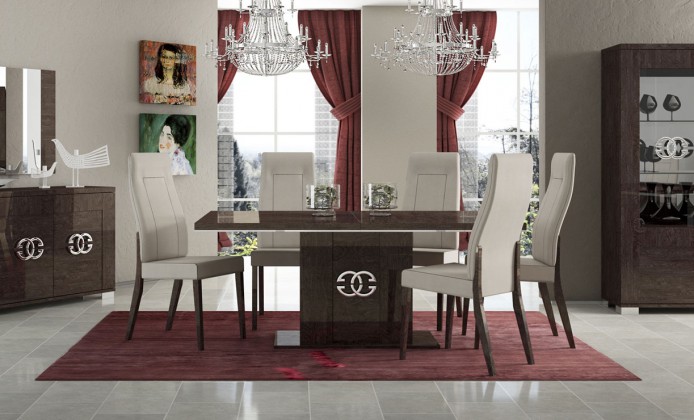 Create and order individually
1. FURNITURE DIMENSIONS (L x W x H)
Price
1347€
-5% the discount will be applied in the shopping cart
Manufacturing lead time:
82 d.
All models of the collection