DINING TABLE
BALTIC D1200
580€
493€
DIMENSIONS (L x W x H):
1200 x 1200 x 760 mm
HPL table top Ø 1250 mm
Round dining table
Round dining table BALTIC - choose from several different sizes to suit your needs. Dining table with tabletop made of veneered MDF. The sloping corners of the table top give the table elegance, but are also sharp and comfortable for everyday use.

Choose the tabletop color and material you like from the offered palette
You can choose the shade and type of the panel from the panel palette. We can offer oak veneer panels (F), laminated chipboard and high pressure laminate (HPL) panels. In the assortment, you will find both classic wood-patterned and luxurious, marble-patterned, concrete-imitation and stone-patterned panels.

Table top edge type
The edge of the oak veneer laminated board is cut at an angle of 45°. Such milling of the edge will give the furniture lightness, decorativeness and uniqueness. Laminated edges of wood chips or high-pressure laminate panels are processed at a classic, 90° angle.
Table leg - classic, black color
The leg of the table - classic, black color, fits in any color interior. The black color will highlight the pattern and color of the panel.

Assembly instructions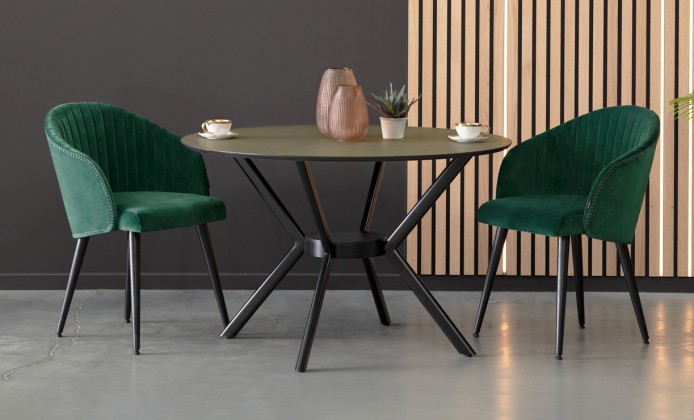 Create and order individually
1. FURNITURE DIMENSIONS (L x W x H)
2. CHOOSE THE COLOR OF THE TABLE TOP
Manufacturing lead time:
7 d.
All models of the collection