Bed
MOCHA
From
301€
DIMENSIONS (L x W x H):
1090 x 2100 x 1055 mm
Suitable for mattresses: 1000 x 2000 mm
1290 x 2100 x 1055 mm
Suitable for mattresses: 1200 x 2000 mm
Classic design bed MOCHA
The MOCHA bed of classic design is decorated with a soft double-sided headboard, which gives a feeling of youthfulness, luxury, while allowing you to comfortably spend time in bed watching movies, reading books or simply talking to friends.
Design elements specific to the MOCHA collection
The collection will appeal to those who like peace of mind, coziness and simplicity. Classic forms, natural wood patterns, minimal details, rounded corners of furniture - will bring a glimmer of nature to your interior and will leave a lot of your imagination by combining the colors and accessories.
Double-sided pillow - headboard
Depending on the mood, the interior of the room, the colors of other accessories, you can choose a brown or mossy color of the headboard.
Ventilation openings are installed
Ventilation openings are installed in the furniture to ensure air circulation. Your stored items will always stay fresh.

You can buy a separate storage box - an extra pull-out bed
There is a possibility to order a storage box from the same collection, that fits under the bed and can be used as a storage box or an extra bed. Storage boxes are sold separately.

Soft headboard
The bed will be comfortable not only to sleep, but also to sit comfortably, as the headboard is covered with soft fabric. The headboard is easily removable because it is attached with a contact strip.

Fits robot - vacuum cleaner
The high legs of the furniture add elegance to the furniture, and also ensure that a robot of standard height can work free under it.

The beds are sold without a mattress
You can choose mattresses suitable for beds from a wide range of our mattresses, which can be found here.

Made of quality materials
The furniture is designed and manufactured in accordance with advanced safety standards, from certified and high-quality, materials without carcinogenic.
Combine the furniture in the collection!
In order to maintain a unified style of the room or rooms – you can choose different models of furniture from one collection. The collection consists of several different sizes of chests of drawers, beds, bedside tables, tables. The accessories and interior details will give integrity to the style.

Assembly instructions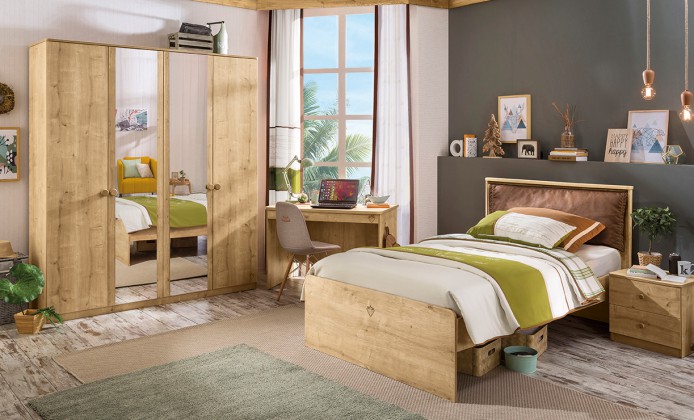 Create and order individually
1. FURNITURE DIMENSIONS (L x W x H)
Price
301€
-10% the discount will be applied in the shopping cart
Manufacturing lead time:
90 d.
All models of the collection